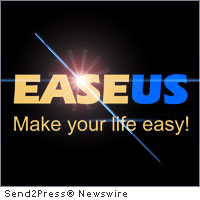 NEW YORK CITY, N.Y. /Advertising Industry Newswire/ — EASEUS Software, a leading international developer of storage management, data backup and system disaster recovery solutions for Microsoft Windows®, has announced an "EASEUS logo design campaign," where all participants can get a specified EASEUS product as the 100% free gift as soon as they have taken part in the event. $50 Amazon gift cards are also up for grabs for the most creative participating designers. Anyone that possesses ideas can grasp the opportunity to win a surprising gift from EASEUS if they provide their own creative picture of the "EASEUS" logo.
Participants can do the following steps to join the activity:
1. People can take advantage of every possible art and design method, using things, such as pieces of several stones, apples, roses or other things put together, modify some pictures with Photoshop or Xara Photo and Graphic Designer to make an "EASEUS" logo. As long you're joining the activity, you will get a gift.
2. Participants are required to upload their pictures to EASEUS Facebook Photo Tab or send their pictures to market@easeus.com .
3. As soon as a participant has shared the pictures and provided EASEUS their pictures' name, participants can choose any one of three products: EASEUS Data Recovery Wizard ($69.95), EASEUS Todo Backup Workstation ($39.00), and EASEUS Partition Master Professional Edition ($39.95) – all of which are popular data recovery and hard disk image tolls, as well as partition manager software, among computer users.
4. Every month, EASEUS will choose 5 of the most creative pictures to award them another prize – Amazon gift cards worth $50 each. The award list will be shown on EASEUS' Facebook page, Twitter feed and on www.easeus.com .
There is no limit to the number of pictures submitted for each participant in the activity. The more creative pictures, the more possible participants get the wonderful gifts. EASEUS welcomes you to share all your creative and imaginative designs.
Learn more at: http://www.easeus.com/special-offers/easeus-gift.htm .
Editors Note: version of logo shown on this page was "artistically modified" by AIN editor, Christopher Simmons (christophersimmons.com).
Author Carly Zander has written for numerous publications including CrossMedia and Search Engine Intelligence, and in the music business for outfits like Neotrope® Records. She is a full-time content manager for the Neotrope® News Network.