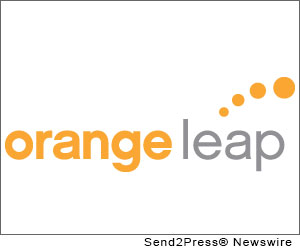 DALLAS, Texas /Advertising Industry Newswire/ — On October 23, Orange Leap launched a new monthly series of webcasts for nonprofit organizations called the Shine Brighter Series. The first webcast covered "5 Ways Nonprofits Can Get More Likes on Their Facebook Page" presented by Randy Vaughn of Fort Worth-based Marketing Twins.
"The Shine Brighter Series was created to provide a wide variety of best practices and helpful information that nonprofit organizations can use to further their mission," said Orange Leap CEO Randy McCabe. "We developed this to assist Orange Leap clients, but welcome all nonprofits to attend."
The presentation "5 Ways Nonprofits Can Get More Likes on Their Facebook Page" provided help specifically for nonprofits:
* Understand a long-term strategic vision for using Facebook.
* Master the 3 most important things nonprofits should be posting every day.
* Discover 5 creative ways to increase the number of LIKES without having to pay for them.
* Find out how Facebook ads can actually work (and when NOT to use them).
* Learn about a powerful way that Facebook can help you showcase the stories and visions of your nonprofit.
The webcast was presented by Randy Vaughn of The Marketing Twins. Randy Vaughn is currently Dallas-Fort Worth's only Certified Duct Tape Marketing Consultant. The Marketing Twins help develop and install strategic marketing systems for Christian small businesses and nonprofits. Also they implement creative solutions, performing a variety of graphic design, web, and social media marketing projects for churches, ministries, and private Christian schools.
About Orange Leap:
Orange Leap helps nonprofits raise more money with fewer resources by streamlining the fundraising process with innovative technology solutions and collaborative support. A cloud-based, Constituent Relationship Management (CRM) technology solutions company, Orange Leap effectively manages donor and constituent relationships; processes donations and tracks gift history; and automates fundraising and marketing communications. Based in Dallas, Texas, the company works closely with nonprofits that are focused on reaching and engaging a wide range of missions and constituencies. More information: http://www.orangeleap.com/ .
Christopher Laird Simmons is a 30+ year veteran in the advertising and marketing business and has helped launch numerous companies including MacMall®, FindWhat.com, Neotrope®, and Send2Press® Newswire. He is an award winning photographer, designer, and one of the first experts in the field of SEO. He is a former contributing editor to numerous magazines, and has been widely interviewed by same. He is a PR pro and member of the PRSA, a professional musician and member of ASCAP, and the founder of Neotrope®. He is the author of FRACTOPIA, an art book (Neotrope Press, Dec. 2008). UNAUTHORIZED REPUBLICATION OF THIS CONTENT IS PROHIBITED UNDER U.S. AND INTERNATIONAL COPYRIGHT LAWS.