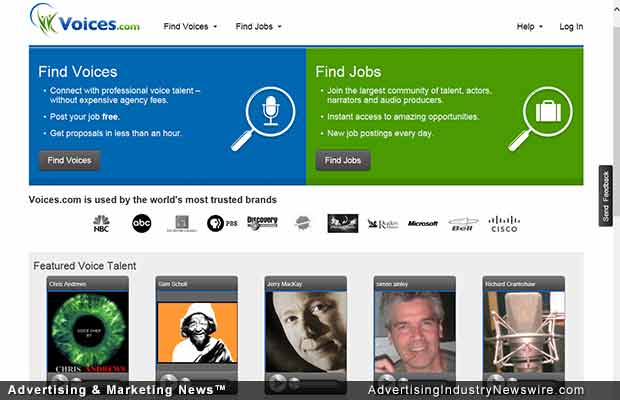 NEWS: For the past decade, London, Ontario based Voices.com has helped advertising industry professionals connect when seeking voiceover talent, and voice actors. It's also become a top destination for those seeking to make a living by promoting their voice acting abilities for projects ranging from animation, to TV spots and PSAs, to documentary and feature film work. This month, Voices is celebrating the registration of its 100,000th voice talent member with the launch of a new website, rebuilt from the ground up around HTML5/Bootstrap and "responsive design."
Responsive design is a win-win for both the company and its customers. Traveling down the road of responsive design became an absolute must for Voices.com following a substantial increase in visitors accessing the site via mobile devices such as iPhone, iPad and the Android-powered Galaxy SIII with mobile visits increasing 43 percent year over year.
"As a result of our responsive design implementation, visitors to the Voices.com site are more engaged and staying on the website for longer periods of time," says David Ciccarelli CEO and co-founder of Voices. "People are visiting more often with 86 percent of members visiting daily. Of those visitors, they are also staying 17 percent longer on the site than they were just a year ago."
Consider the following statistics from a recent Forrester Research report:
* Mobile web browsing is projected to take over desktop Internet usage by 2015 – or sooner.
* 90 percent of people use multiple screens to access the web.
* 90 percent of smartphone searches results in a purchase or a visit to a business.
Learn more: http://www.voices.com/ .
About Voices:
Voices.com strives to achieve amazing things through the talent and faith of ordinary people. Voices.com is the online marketplace that connects businesses with voice over talent. More than 200,000 people from companies like ABC, NBC, ESPN, PBS, The History Channel, The Discovery Channel, Sony Pictures, Audible, Comcast, Bell Canada, Google, Microsoft, Cisco, Western Union, American Airlines, Toyota, Ford and GM as well as organizations such as the U.S. Army and the U.S. Government entrust the Voices online marketplace with their stories and collaborate online.
Editorial note: story updated to fix typo on "bootstrap."