COLUMN: In perhaps one of the most clever sexy marketing ideas I've seen in awhile, HBO is promoting a True Blood tie-in, a women's tank top, with the letters VILF across the chest. It's a clever reference to the now over-used term MILF, except with vampire replacing mother as the first word.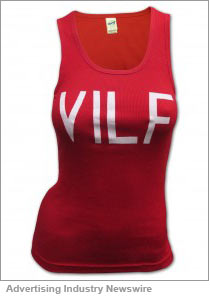 The tank also appears in the June 2010 issue of Playboy magazine, being worn by super-hottie and Playmate of the Year, Hope Dworaczyk (she also wears the "Fangbanger" apparel in the same story and says if she were a shape shifter she would obviously shift into a "bunny" – hah hah ha).
The "V I L F" tank sells for $19.99 at the HBO online store. Other fan gear is available with phrases like "Real Blood is for Suckers." Mugs can be had with "welcome to Bon Temps," and "Fangtasia" pint glasses. The usual cheesy "I Love Sookie" T-shirts, and junk with the images of the cast.
I tried the bottled "true blood" soda, but didn't particularly care for it. A bit too syrupy and too many ingredients to be good for any long term substitute for the "real thing." If you want to really mess with people at your next PTA meeting, the "American Vampire League" T-shirt might be a good choice.
HBO has also posted a preview trailer teaser for True Blood Season 3. The show is awesome, and the vampire craze shows no sign of waning anytime soon.
You can see the VILF tank here:
http://store.hbo.com/detail.php?p=262694&v=hbo_shows_true-blood .
Promo video follows: