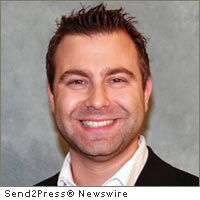 KIRKLAND, Wash. /Advertising Industry Newswire/ — LTC Financial Partners LLC (LTCFP) this month revealed one of its marketing secrets: "electronic business cards" that supply an agent's name, address, and phone number, just as old-fashioned business cards do, but with a difference. The electronic variety "can't be misplaced, and they establish credibility by providing helpful, detailed information," says Jonas Roeser, LTCFP's Senior Vice President of Marketing & Operations.
The new "business cards" are "personal websites on steroids," says Roeser. LTCFP started by offering its agents plain personal sites, "but that wasn't enough," Roeser says. "It was like having your contact information on a printed card, but never handing it out, or hiding it in a dark corner somewhere. So we've added steroids." These consist of a personal public relations service and social networking on sites such as Twitter, Facebook, and blogs. "This outreach spreads each agent all over the web, with lots of references back to the personal sites."
The tangible results include simplified appointment setting, savings of time and money though online education, and building of trust necessary for establishing a client relationship.
How do LTCFP's agents "hand out" their electronic cards? "They just tell people to go to Google and enter their name followed by LTC," says Roeser. "That brings up a link to their site and a lot more besides. Thanks to our program, there's a ton of stuff out there about each agent." For example, a search for "Amy Pollock LTC" brings several pages of links.
So far more than 100 LTCFP agents have taken advantage of the program, and "it's really helping them reach out," Roeser says.
LTCFP is one of the nation's most experienced long-term care insurance agencies. In California, the company is known as LTC Partners & Insurance Services, LLC.