MOUNTAIN LAKES, N.J. /Advertising Industry Newswire/ — Insight Research Corp.'s new market analysis study, "The Mobile Workforce and Enterprise Applications, 2011-2016," takes a close look at the most important enterprise applications accessible from various mobile devices including smartphones, tablets, and sensors. The report then segments the findings into eight vertical industry classifications and presents the data for the U.S. as well as four global regions.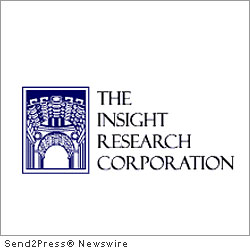 According to the study, enterprise mobility solutions will generate nearly $40 billion in annual sales for applications developers by 2016. In addition, mobile operator revenues associated with these solutions will grow proportionately.
The market forecast is segmented by major vertical markets, including Banking, finance, insurance; Information, communication, media; Healthcare; Utilities; Retail and logistics; Transportation; Services; and Manufacturing and construction.
"Mobility solutions are dominating enterprise IT development programs, as companies rush to support their expanding mobile workforce," says Fran Caulfield, Research Director at Insight Research.
"While the proliferation of smartphones and tablets in the enterprise has improved employee productivity, mobility has also increased the complexity of managing solutions. More features, higher bandwidth, and lower latency are table stakes, and only the application developers and service providers that can surpass meet these demands will prosper," Caulfield concluded.
"The Mobile Workforce and Enterprise Applications, 2011-2016," provides a detailed analysis of the wireless technologies, application platforms, and workforce trends that have created this environment. Segmentations are provided for U.S., Rest of North America; Europe, Middle East, Africa; Asia and Pacific; and Central and Latin America for applications including VoIP, fixed mobile convergence, e-mail, conferencing and collaboration, machine-to-machine communication, and sales force automation.
An excerpt of this market research report, table of contents, and ordering information are online at http://www.insight-corp.com/reports/mwf11.asp .
The report is available immediately for $4,695. Electronic (PDF) reports can be ordered online. Visit our website at www.insight-corp.com – or call 973/541-9600 for details.