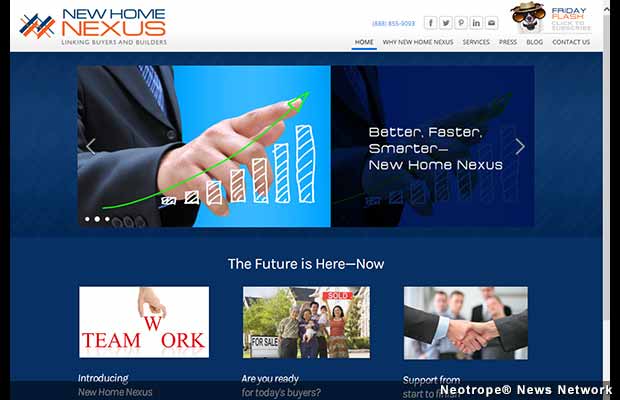 NEWS: Construction industry marketing veteran Elliot Light recently announced his formation of New Home Nexus, a marketing, sales and advertising firm that "will connect buyers and builders." From initial due diligence to final sale, New Home Nexus will serve homebuilders, investors, asset managers and financial institutions throughout Southern California.
Light and New Home Nexus have developed a consumer-centric approach that is based on current consumer insights and research. This research enables clients to design and build the right home for today's buyer. In addition, New Home Nexus provides a targeted, aggressive, lead generation system that increases traffic count, generates higher referral sales, increases advertising effectiveness and drives sales for builders.
"The decades-old model for selling new homes is changing. Today's homebuyers are smarter, more tech savvy, more ethnically diverse and more demanding than ever before," says Light. "Our extensive market knowledge and research empowers us to meet the needs of both the modern buyer and builder, ultimately driving both sales and customer satisfaction."
Light has more than three decades of new home sales, marketing and advertising experience. He is now leveraging that experience to provide strategic marketing direction, the oversight of on-site sales, and the direction of client advertising and promotion. As the past President of L&A Marketing and Advertising, Light has extensive experience in lead generation, brand development, promotional marketing plus traditional and on-line advertising.
For his work with L&A Marketing and Advertising, Light received industry awards from numerous organizations including Inland Empire Sales and Marketing Council, the Southern California Sales and Marketing Council, San Diego Sales and Marketing Council, the National Homebuilder Association, and others.
About New Home Nexus:
Irvine-based New Home Nexus is a sales, marketing and advertising firm that specializing in the marketing and sales of new housing projects for residential builders. Formed on a consumer centric marketing platform, New Home Nexus provides builders with the consumer insights they need to design and sell to the modern home buyer. More information about New Home Nexus is available at http://www.newhomenexus.com/ .