Staff bios on this page:
Christopher Simmons | Scott G | Stephen Monaco | Carly Zander | Liisa Sullivan | Carly Zander | Jack Campitelli
This Web site has a talented team of authors, journalists, and content specialists who work to make our articles and news items relevant, credible and coherent for our audience.
---
• Christopher Simmons
Christopher Laird Simmons is one of those folks sometimes referred to as a "œrenaissance man" because of his many interests and his ability to be both an artist and a businessman by switching hats as necessary. Similarly, he has been at the forefront of numerous movements combining the arts and technology over the past 25 years. His various hats have included direct marketing, art direction, illustration, journalism, music, photography, publishing, public relations, video editing, and Web development. He has been a non-stop entrepreneur since his teens — his first successful venture was a mail-order business selling movie memorabilia around the world at the age of 16.
He is the president and founder of Neotrope® which is involved in entertainment, marketing and PR; both online and in traditional venues. He is a current member of the Public Relations Society of America (PRSA), and the American Society of Composers, Authors and Publishers (ASCAP). As a public relations (PR) professional he works with companies of all sizes to help them "get ink" in the media and promote their brands and products. He has also served on the panel of judges for the PRSA Excellence in Tech Journalism Awards (2002, 2003, 2004 awards).
He has also been on the launch team of numerous successful companies including MacMall, FindWhat.com (now MIVA), and Send2Press Newswire.
He has developed over 500 Web sites since March of 1995, including e-commerce projects for Oprah Winfrey and the No Fear clothing company, and an online 10-hour e-learning video course for DentalHygieneReview. He is also considered one of the first "experts" in search engine optimization (SEO), creating a proprietary technology called ContextEngine&regl in 1996 which has evolved over the past decade along with search engines to help Web sites rank higher and "be found."
He has art directed numerous magazines, and was the Chief Creative at the PhotoVentures ad agency from 1982-1987. He has won two Harvey Measurement awards for most responsive magazine advertising, and an ARPL design award from Apple Computer in 1993.
He wrote one of the first magazine articles on using MIDI sequencing with a Commodore 64, and Sequential Circuits interface in the June 1984 issue of Polyphony (now Electronic Musician). As one of the first proponents of e-book technology in the publishing and advertising worlds, he published an electronic magazine (e-zine) of fiction and pop-culture called Nu*Real in the Common Ground format in Dec. of 1994 that was available for download on AOL and Internet news groups.
He has written for a wide variety of national and regional print publications including Computer Player, CrossMedia, Digital Imaging, Print on Demand Business, Micro Publishing News, Polyphony, Search Engine Intelligence, and Spazz. His business articles on graphic design and Web development were also reprinted by the Graphic Artist Guild in several issues of their member newspaper. As the founder of a small publishing  company (Mindset Press, now Neotrope Press), he developed over thirty small press publications and fanzines between 1987 and 1990, including one that was featured in the "potpourri" section of Playboy magazine.
He has been widely interviewed by publications like PC World on Linux Web hosting (he operated a Web hosting business from 1997 to 2005), TrendWatch on PDF technology, twice by Entrepreneur magazine on PR and marketing, and been invited to speak at Seybold, and the annual meeting of the American Intellectual Property Law Association, among others. He has been interviewed numerous times for Internet radio and Podcast programs over the past six years related to public relations and Internet marketing topics.
As a photographer he has won numerous "best of show" awards for abstract, glamour, and portrait imagery. He has also created photographic and 3-D imagery for over three dozen national magazine covers. His abstract digital artwork was selected as the cover for the 1997 Science and Technology Course Catalog for the California State University Long Beach (CSULB) and has been featured in numerous major art installations including the 1997 Bytes of Art project in San Francisco. He created his first computer graphics for the Adventure International Atari 8-bit computer game Stone of Sisyphus in 1983.
He has composed music themes for two cable TV programs, including the award-winning VidKidCo, produced by the Long Beach Museum of Art's Video Annex. As a musician he performed in several bands in the '80s, including "Pets Gone Wild" ( www.petsgonewild.com ) that was featured in the L.A. Times Calendar section, and was an L.A. Weekly "band name of the week." He released numerous independent self-produced albums of electronic music in the '80s under the name Bluetoy, which were played widely on late-night alternative music radio shows, and reviewed favorably in music magazines like Electronic Musician. He re-mastered and re-released the albums on CD under his own name between 1996 and 2000 (his CD Beserker is available on iTunes, CDbaby, Amazon.com).
His adventures and interests outside of the arts have also included competitive bicycling in his late youth, and living the "fast and furious" lifestyle in Southern California's car culture in the early 1980s. Chris is divorced and lives in Torrance, California.
Learn more about Christopher at: http://ChristopherSimmons.com .
---
• Scott G (aka "The G-Man")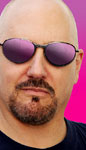 Scott G owns G-Man Marketing, (http://www.gmanmarketing.com/) an advertising and communiations firm in Los Angeles. If you have opened a newspaper, flipped through a magazine, or listened to the radio in the past two decades, your purchasing decisions have been influenced by his work.
Mr. G has created advertising campaigns for hundreds of clients, and most recently has written/produced radio commercials and corporate broadcasts for such as Goodrich, General Dynamics NASSCO, Verizon Wireless, Yale Hospital, American Cancer Society, DIRECTV, Micron, Legoland, the Auto Club and many more.
He is also the recording artist known as The G-Man, with his albums distributed by Delvian Records and available on Rhapsody and iTunes. He's a voting member of NARAS (the Grammy organization) and regularly writes about communications, marketing and advertising for many publications and Web sites.
---
• Stephen Monaco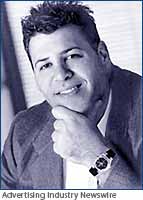 Stephen Monaco provides strategic marketing services to technology-based companies as an independent consultant. He has worked with a number of high tech companies including Symantec Corporation, Quarterdeck, Microsoft, Digital River, and the Business & Technology Practice at Edelman Public Relations. Monaco has been a co-founder, investor or senior executive and mentor in several early stage technology companies in North America and Europe in the areas of utilities software, electronic software distribution, paid Internet search, Internet marketing, Web analytics, Internet content, e-commerce, security software, direct marketing, entertainment, and alternative energy.
Monaco is an accomplished executive with twenty years of senior management experience in the technology sector. He is a strong leader who serves as a mentor to senior management, possesses remarkable creativity, sound judgment, entrepreneurial vision, and hands-on expertise.
Prior to becoming an independent consultant in 1999, Monaco held the positions of co-CEO and Vice President of Marketing, Chief Marketing Officer; and Executive Consultant for Datastorm Technologies, Inc.- a leading developer and publisher in the highly competitive fields of data communications, remote and Internet software. Monaco's creative marketing prowess is the driving force behind the world's best-selling PC data communications software of all time, the software mega-brand, ProComm Plus. Monaco defined company strategies and successfully built Datastorm from raw start-up, led the company through 40 consecutive profitable quarters of growth to $50 million in annual revenue, and its acquisition by a publicly-traded company. Monaco simultaneously managed the company's affiliate, Datastorm Technologies, Ltd. in Cambridge, England.
In his early career, Monaco held marketing positions at Warner Bros. Television – International TV Distribution in Burbank, California, and Creative Communications Group in Dallas, Texas.
Over the past twenty years, Monaco has served as a Director on numerous corporate boards and on several advisory boards, and is a member of the National Association of Corporate Directors, and the American Marketing Association.
He has been a guest lecturer to MBA marketing and entrepreneurial business classes at the University of Missouri, and the Keller Graduate School of Management in Los Angeles. His successful pricing strategies from Datastorm Technologies are utilized as examples in the Instructor's Resource Manual that accompanies Philip Kotler's graduate-level college textbook, "Marketing Management, Eleventh Edition."
Stephen Monaco was educated at Missouri Institute of Technology, and the University of Missouri, and did his graduate studies in marketing at the University of Wales.
He may be contacted at: smonaco @earthlink.net.
---
• Carly Zander
Author Carly Zander has written for numerous publications including CrossMedia and Search Engine Intelligence and in the music business for outfits like Neotrope Records. She is a full-time content manager for the Neotrope News Network.
---
• Liisa Sullivan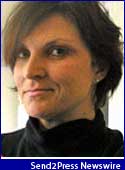 Liisa (yes, spelled correctly!) writes for several national and regional magazines; daily and weekly newspapers; and business-to-business newsletters. Before joining the Neotrope News Network, she worked as an editor for a national medical publishing company where she managed a team of writers and did market research for new launches. Liisa also worked in the catering business for several years, and as a result, specializes in writing about the food and beverage business and has two monthly columns that feature chefs and wine experts.
Liisa received her Masters in Media Studies from the New School for Social Research in New York City and is currently a member of the Public Relations Association of Western North Carolina. She resides in the beautiful town of Asheville, NC in the heart of the Blue Ridge Mountains; she lives there with her husband, Bryan and Black lab, Annie.
---
• Jack Campitelli
Jack Campitelli, J.D., lawyer/author of #1 Best Selling "Internet Law Compliance Guide" sold in 25 countries. Designed to help small to medium web-marketers quickly and easily comply with regulations without killing sales. Complete with fully-licensed user agreement, privacy policy and purchase agreement, disclosures and disclaimers. Jack's "Late Night Musings" of irreverent and politically incorrect commentary are available at www.jackcampitelli.com. Viewer discretion advised.