WAYNE, N.J. — The Ballantine Corporation, a full-service direct mail production company, has polled marketing contacts to determine how their direct mail holiday campaigns are going. While still underway, many companies are able to report preliminary findings to gauge their overall success.
Companies surveyed were as varied as responses received. They included: publishing, retail, television, financial services, direct mail consulting, real estate, business services, heavy machinery, personal care, and promotional advertising.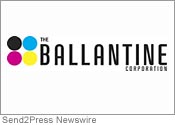 So, what's hot and what's not? According to several contacts surveyed, holiday greeting cards are a great way to keep in touch with clients and to nurture strategic relationships.
Other effective direct mail tactics included updating packages with cross-sell opportunities, and refining list selection for more focused targeting. E-mail also complemented many direct mail campaigns.
Companies that have realized a decline in their direct mail marketing responses share their thoughts on this as well. One consulting company, for example, speculated that the power of the Internet usurps direct mail response for some of their clients.
In addition, some companies do not do direct mail campaigns at all during the holidays. In fact, 30 percent of the companies surveyed do not. For one financial services company, direct mail marketing offers are inducted post-holiday season when response rates are likely to improve.
"The information gathering was a learning process," Ryan Cote, Director of Marketing for Ballantine Corporation, said. "Overall, the results were positive for companies who send out holiday direct mail marketing campaigns and the use of e-mail seems to be working well when combined with these direct mail efforts."
Founded in 1966, the Ballantine Corporation (www.ballantine.com) has evolved from offering print production services to also providing mailing, creative and one-to-one marketing solutions.
To download a free copy of the full report, go to:
http://www.ballantine.com/holidayreport2007.html
[tags]The Ballantine Corporation, direct mail holiday campaigns, Holiday 2007 Direct Marketing Industry Report[/tags]