AUSTIN, Texas — High-performance MDS Advertising is among Austin's top dozen creative ad agencies according to results announced Friday in the Austin Business Journal ranking of the top 25 advertising firms in Austin. MDS has been a creative secret weapon for its clients since 1991 when MDS moved to Austin from Los Angeles. But with client ad budgets cresting $22 million in 2006, MDS will take its place among ad industry players in the city.
The company was launched by design and marketing wizard David Hubbard, and software developer Victoria Marasco after the partners expanded their successful California software design and marketing company to Texas, and opened MDS Advertising in Austin. They built the lean, high-creative, design-savvy and full-service Austin ad agency, keeping a low profile and aiming for big results for its clients. However, their burgeoning record of success is pushing MDS into view, and Friday's listing as a top Austin ad agency has put an end to the pastoral anonymity MDS has enjoyed.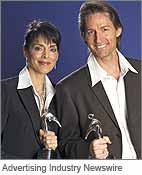 MDS flew under the radar for the last 15 years and focused strictly on creating results-producing advertising, branding and collaterals for its client family. In the last 18 months, MDS quietly racked up $1.5 billion in sales for one of its largest clients, Montecito Property Company (an industry leader it helped grow from start up). It helped launch a $14-million medical real estate investment company and put together comprehensive collaterals and multi-media for a 2-day Korean tradeshow that netted its client $25 million in sales.
It produced its seventh and frequently award-winning annual report for UTIMCO – whose $21 billion portfolio makes it one of the nation's largest university fund management companies – and orchestrated comprehensive brand launches for a small, yet colorful galaxy of clients that included brand launches for a natural cookie startup company, aesthetic medical spas and luxury realty firms. MDS counts among its client portfolio, major national brands such as Wal-Mart and Dell Computers, Mothers Against Drunk Driving, One World Theatre and a fleet of clients who enjoy the agency's imaginative and hardworking ad and marketing creative seen on its website, www.mdsadvertising.com.
The futuristic and architecturally unique MDS offices are located on a scenic 10-acre site in the west Austin hills. The studio is command center for a constellation of a dozen MDS creatives who work with an extensive virtual team of art directors, illustrators, marketing strategists, researchers and market analysts, writers, designers, photographers and film pros, editors, web experts, media planners and account managers – pulled together in precise teams that are configured and reconfigured as clients, creative goals and budgets demand.
According to MDS executive creative director David Hubbard, the "recombinant" flexibility and experience of the MDS virtual team process is a key reason the agency continues to remain so efficient, responsive and creatively productive for its clients. "While it's true we do have clients whose budgets run in the millions – they really don't want to be paying for big team overhead, just big team results. They expect and need real return on their investment. What MDS delivers is results. My goal is that the dollars our clients invest in MDS advertising creative come back to their bottom line exponentially. That's the job we commit to doing when we take on a client – I want them to know they can count on return from MDS creative," he says.
Excellent proof of Hubbard's intention and the agency's long-standing credo is demonstrated in the results MDS achieved for its clients in the last year. Hubbard is proud to point out that MDS Advertising is credited by its client Montecito Property Company for driving sales of more than $1.5 billion in 2006 and successfully branding and marketing over 20 subrands for the industry giant in the highly competitive luxury resort condominium industry.
"In the last 18 months, we launched more than twenty, high end condo development projects ranging in value from $60 to $220 million in top U.S. markets. We sold out a number of them in less than three days," Hubbard said. One sellout took only 91 minutes and netted the client $90 million, roughly a million dollars a minute in sales, a win that, according to company founder and CEO Chip Conk, was an event that surely had to be "…a world record" in the annals of real estate success stories, and greatly attributable to the full-spectrum lifestyle ad campaign developed by MDS.
MDS faced intense, ongoing pressure to move responsively and rapidly to constantly re-engage Montecito's universe of potential buyers and investors across multiple markets. With 20 plus sub brands in the Montecito corporate family, the deadlines and pressure was fierce. But, MDS kept its hallmark creative cool and kept producing results.
"No matter what kind of unreasonable drop dead was required, MDS created, produced and trafficked every campaign seamlessly-optimizing a $22 million dollar ad budget that translated into an enormous volume of television, radio and print ads," said MPC director of national marketing, Cindi Boudreaux. "MDS Advertising has helped push Montecito's gross revenue above $1.5 billion in sales last year."
Says Hubbard, "You could say MDS Advertising is boutique in size-but we produce a hefty amount of great work. In general, our accounts range from $300k to well above a million dollars annually."
"Though MDS is roughly 1/30 the size of Austin's largest, and most well-known ad agency," says Hubbard, "I feel that we can claim creative standards as high as any, and higher than most. We are talented, competent, capable, swift and imaginative; we love bringing our clients to the front of the market, and driving their success through great branding and rich back story," he continues. "And, I assure you, we are very good at doing that. We like to bring home the bacon."
It seems MDS is also fond of bringing home the bling. Last year MDS Advertising won 19 awards of the 23 entries it submitted to stellar international advertising competitions. For 2006, MDS took 19 trophies back to Austin – winning nine Telly awards; five Davey awards; three Addys; and silver and bronze Summit awards for its work in video and film, annual report design, copywriting, design, package design and branding.
"MDS is lean, productive and especially strong on branding, campaign design and positioning. Our experience in corporate and institutional marketing, real estate and resorts, finance and revenue management, national non-profits, new product launch and visionary ventures of many types is solid and effective," says Hubbard.
About MDS Advertising in Austin, TX
MDS is a full service advertising agency that excels in imaginative use of all media formats. Original, results-winning branding, advertising, marketing, package design, campaign development, commercial and video production, web design, original photography, print and content innovation, video and digital effects, location and studio shoots are all in a day's work at MDS. And, MDS has been racking up trophy awards for its creative achievements to prove it.
See agency's current portfolio of client work at http://www.mdsadvertising.com, or contact MDS at 512.306.1988.
[tags]MDS Advertising, Austin creative ad agencies, Victoria Marasco, David Hubbard, Austin Business Journal, marketing company to Texas[/tags]