NEW YORK, N.Y. — Party like it's 2009. EMRG Media, LLC, New York's leading event planning and marketing company, announced today that their staff will be on the streets of Manhattan giving out more than 20,000 books to savvy New Yorkers seeking hot New Year's Eve party deals in NYC. "New Yorkers are a smart group, and when faced with the challenges of today's economy, they are getting even smarter," Mario Stewart, founder and co-owner of EMRG Media, LLC, says. "While New Yorkers don't want to give up on planning the perfect New Year's Eve party for 2009, they have given up on last-minute planning and are shopping earlier this year to get better deals."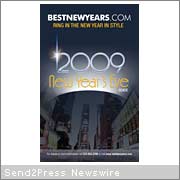 New Year's Eve 2009 is the perfect time to spend with friends on the town. More than ever, this is the year to say goodbye to the old and hello to the new.
Over the next week, successful New Yorkers, public relation professionals and many more, will receive free BestNewYears.com books to the hottest New Year's Eve New York parties and events.
These free books will be delivered via mail, messenger, e-mail and street distribution by staff at BestNewYears.com.
Package price and destination choices are varied. For instance, an ultra New Year's Eve VIP ticket entitles a ticket holder to reserve a table and receive bottle service and in some cases, cocktail service. Or, an after 12:30 a.m. admission ticket is a special ticket for individuals who want to arrive after midnight and benefit from the amenities of the event at a reduced price.
There are more than 25 New York City party destinations to choose from. Venues include: Cipriani's; Union Square Ballroom; Mansion; Touch; Greenhouse; the Jewel Cruise; and more.
BestNewYears.com is the best New Year's Eve event production company in New York City, so people who purchase tickets can be assured of their commitment to excellence. The company has years of experience producing New Year's Eve in New York City so people can enjoy this special night, worry-free.
So, don't be dismayed by the economy, ring in the new year in style with one of the events listed in the BestNewYears.com: 2009 New Year's Eve Guide. Group rates are also available.
About EMRG Media, LLC
EMRG Media, LLC is a premier, full-service, marketing, event planning and publishing firm based in Manhattan. BestNewYears.com is an entity within EMRG Media that is New York City's top resource for information and tickets for New Year's Eve parties and events.
EMRG Media specializes in the conceptualizing, venue selection and negotiating, organizing, and marketing a variety of events for both large and small-scale corporate and private parties.
For a free copy of the e-book, visit: www.bestnewyearseve.com/nye2009.pdf.
[tags]Mario Stewart, EMRG Media LLC, New York event planning and marketing[/tags]