WAYNESVILLE, N.C. — Haywood County tomatoes are now traveling worldwide, thanks to a short web-based video recently produced by the Buy Haywood Market Development Project. More and more, people are receiving messages that communicate "thousands of miles fresher," "buy local," and "support sustainable agriculture." Often these messages are on bumper stickers or in print ads, but the Buy Haywood project has taken these ideas to the next level with the assistance of the World Wide Web.
While the Buy Haywood project often draws parallels with other place-based promotional efforts, like Vidalia Onions, this new marketing effort has more in common with the California Raisin ads from years ago, including music, humor, and animated produce.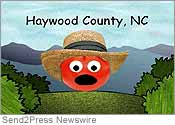 "We wanted to try a more creative approach to promoting our local farm products," said George Ivey, Coordinator of the Buy Haywood project. "We have always had excellent soils, hard-working farmers, and great-tasting produce, but what we need to make a difference in our sales and marketing efforts might really be cartoon tomatoes and YouTube."
The video was produced locally by Stellar Media, which aims to provide animation at an affordable price for nonprofits as well as businesses. "In this case, animation allowed us to take some serious issues and present them in a humorous and hopefully memorable way," said Eric Larson, President of Stellar Media. "Posting the video on the web will also help the project reach many new and different audiences."
The voices for the video are also local, with Kristin Yarborough and Mark Terry narrating the 80-second video. A shorter, 30-second version has also been produced with possible television use in mind. The video can be seen online at www.buyhaywood.com, www.stellarmediaonline.com, and www.youtube.com/BuyHaywood.
The Buy Haywood Market Development Project seeks to improve awareness, interest, and sales of fruits, vegetables, and other farm products grown in Haywood County, North Carolina. The project is managed by the Haywood County Economic Development Commission, and it receives support from the Golden LEAF Foundation.

[tags]Haywood County tomatoes, Golden LEAF Foundation, Write Away Inc, farm products grown in North Carolina, Stellar Media, web video marketing[/tags]