HOUSTON, Texas — Specialty chocolatier, Images in Chocolate (www.gocandy.com), today announced the first custom imprinted chocolate poker chip available in the U.S. marketplace. For the first time, casinos, hotels, and Las Vegas trade show exhibitors among others, can increase their corporate brand awareness using these 1-1/2″ diameter, 100% Belgian chocolate promotional items.
With the tremendous growth in consumer interest for gambling related products as a result of the continuing Texas Hold 'Em craze, a custom branded chocolate casino chip seemed to be a "sure bet."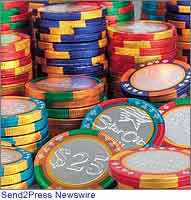 "Until now, there have been generic chocolate casino chips in the market but never one that could be custom imprinted for promotional use," said Tim Dugan, company CEO. "Not only can our new chocolate casino chips be custom branded, they are the first to use 100% Belgian chocolate and also feature a much more authentic casino chip design than available before."
A popular method of customizing these chips is to use a corporate logo on one side and imprint a variety of dollar denomination on the second side, replicating an actual casino chip.
"Although this product was designed with the corporate client in mind, we've seen tremendous interest in the consumer market as well, primarily from individuals having Las Vegas weddings or other gambling-themed events," said Dugan.
Whether the event is large or small, these vibrant, customized chocolate poker chips are sure to raise the stakes in the promotion of any company's image. "And who couldn't use a little chocolate now and again," concludes Dugan.
[tags]Images in Chocolate, corporate logo gifts, promotional items, Belgian chocolate casino chips[/tags]