Part of Big Push to Acquire High Quality Content
LONG BEACH, Calif. — PhotoSpin, Inc. (www.photospin.com), a leading royalty free stock subscription service in the United Sates, has added Newstock images to their collection of royalty free images. PhotoSpin's unique subscription model offers thousands of photos, illustrations, fonts, film and sound as an annual service; now with thousands of new images uploaded monthly.
Annual subscribers pay one fee, and can then download whatever they need. "We are excited to be part of the PhotoSpin.com. This is an exciting business model that makes sense as an alternative to the over crowded Micro-Stock sites and the over priced Royalty Free Sites," said Fred Sweet, president of Newstock images.
"With so many great photographers and artists becoming disillusioned with the current revenue share market we felt it was time for something new. We feel PhotoSpin can offer something novel to the independent stock producers world wide – a relationship where the creators of the content can get paid in advance or share a guaranteed monthly or quarterly payment. It's good for creator / artist, it's good for the client, and it's good for PhotoSpin," said Val Gelineau, CEO of PhotoSpin, Inc.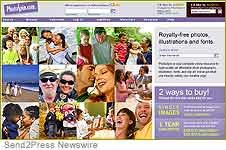 About PhotoSpin Inc.
PhotoSpin, Inc. is the only royalty-free content subscription site for business professionals that include fonts, illustrations, sound and video in one neat annual royalty-free subscription. The PhotoSpin library includes thousands of award-winning photographs, illustrations, video clips, sound files and fonts.
The company has a unique subscription-based model: subscribers pay an annual fee to create a username and password, and can then go onto the site for downloads of content anytime with no additional fees.
For more information about PhotoSpin, call 888.246.1313 or visit http://www.photospin.com
[tags]PhotoSpin Inc, Newstock Image Library, royalty free content, stock photos[/tags]