LOS ANGELES, CA – May 12 (SEND2PRESS NEWSWIRE) — Send2Press(R), a leading online news service since 1996, announced today the addition of PR expert Liisa Sullivan to its editorial team. Liisa will take on the role of lead writer for the company's news release writing programs. Send2Press is a unit of Neotrope(R), established 1983 in California.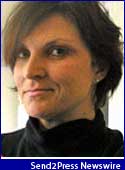 "Liisa has demonstrated a remarkable attention to detail, and the ability to bring her warmth and expertise to our client projects," said Neotrope president and founder, Christopher Simmons.
Liisa (yes, spelled correctly!) writes for several national and regional magazines; daily and weekly newspapers; and business-to-business newsletters. Before joining Send2Press, she worked as an editor for a national medical publishing company where she managed a team of writers and did market research for new launches. Liisa also worked in the catering business for several years, and as a result, specializes in writing about the food and beverage business and has two monthly columns that feature chefs and wine experts.
Liisa received her Masters in Media Studies from the New School for Social Research in New York City and is currently a member of the Public Relations Association of Western North Carolina. She resides in the beautiful town of Asheville, NC in the heart of the Blue Ridge Mountains; she lives there with her husband, Bryan and Black lab, Annie.
For more information about Send2Press' press release writing services, visit:
http://Send2Press.com/PRservices/release_writing.shtml
Send2Press is highly regarded for its credible content and "quality over quantity" approach to writing and news distribution, through strict editorial guidelines and rejection of spurious news items. The newswire service has a team of accredited PR professionals who work closely with companies of all sizes to help them "get the word out" about their news. For examples of recent Send2Press news stories, visit: http://www.Send2Press.com/newswire/
Prior to 2000, Send2Press was known as MindsetNetwire, and the service was only offered to Neotrope corporate clients on Websites including Ga-Ga.com, and MindsetCommunications.com. Neotrope (the company formerly known as "Mindset") has offered targeted news distribution, press release writing, and brand identity services since 1983, and was founded by Christopher Laird Simmons. Simmons is a member of the PRSA and ASCAP, an award-winning marketing expert, and has been on the launch team for numerous successful companies.
Send2Press and Neotrope are registered trademarks.
News Source: Neotrope
Send2Press(R) is the originating wire service for this story.