LAKE PLACID, N.Y. — U.S. advertisers now have access to a high quality business daily in Delhi and Mumbai due to the expanded portfolio of Riverside Media Sales / Global Media Network, Inc. (www.riversidemediasales.com), a leading provider of global media services. Riverside Media, the U.S. Advertising Representative for HT Media Limited, New Delhi, is pleased to announce the addition of HT's newly launched business daily "MINT," published in association with the Wall Street Journal.
"MINT" is India's first business daily newspaper in a convenient compact size. MINT delivers financial, business and economic news each morning daily Monday-Saturday. MINT enjoys an initial circulation of 80,000 with distribution to Delhi the economic capital of Northern India and Mumbai a rapidly forming financial center.
The paper will carry a weekly supplement "Campaign" on marketing, strategy and management with Saturday supplements "Mint Lounge" and "Mint B" in magazine format. MINT's online edition, livemint.com, in combination with the print edition, will provide advertisers with maximum exposure. The paper was designed by Mario Garcia, a world-renowned newspaper designer.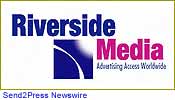 Riverside Media will provide U.S. advertising sales and marketing support for "MINT" in conjunction with HT Media's flagship publications The Hindustan Times and The Hindustan.
"We are very excited to be involved with HT's foray into India's daily business market. Things are certainly heating up with HT's launch being the fifth business newspaper to hit the Indian market," W. John Holmes, president, said.
According to the Audit Bureau of Circulations of the Indian Newspaper Society, Indian newspaper readership rose to 222 million last year with room for more growth: Some 360 million more people in the country of 1.1 billion can read and understand English or the vernacular press, but do not yet subscribe to any newspaper.
Advertising in international markets is laced with complexities. Riverside Media acts as a conduit for international media placement, providing cost-effective solutions for small businesses to Fortune 500 companies, and advertising agencies. From effective planning, buying, placement and processing of print and online campaigns to one-offs, Riverside Media can manage and implement strategic marketing solutions for an array of businesses and industries.
Riverside Media represents leading media properties with over 42 affiliate offices throughout Africa, Asia Pacific, Canada, Europe, the Caribbean, Latin America and the Middle East.
[tags]Riverside media sales, MINT business daily, advertising sales and marketing[/tags]