SAN DIEGO, Calif. — NASCAR racing legend Wally Dallenbach Jr, motor sports broadcaster for NBC, ABC, TNT and USA Network, joins KDHD-TV, LLC's team of broadcasters providing live content to national and local news programs around the country. Dallenbach rounds out the roster of broadcast savvy experts covering the dynamic tech, gaming, travel and toy industries for the satellite tour/broadcast news content provider.
"The relationship with Dallenbach marks our organic growth into the automotive industry, where we can offer new, compelling demographically desirable broadcast impression opportunities," said KDHD.TV President Kyle Williams. "I am proud that we are on the forefront of the broadcast efforts of some of the biggest names in the various industries we serve."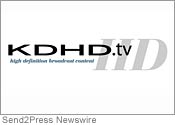 Prior to founding KDHD-TV, Williams headed production at a Newport Beach, Ca.-based multi-media company, where he created and distributed programming for satellite and cable channels and corporate clients, primarily in the automotive, toy, high-tech, and gaming industries. As senior producer he oversaw production of satellite media tours, airline in-flight programming, video news releases, web casts and automotive vehicle press footage. Williams was Senior Producer for ESPN's "Road Trip" series from international auto shows, including Frankfurt, Germany, Los Angeles, Chicago, SEMA, and New York.
"The addition of Dallenbach is consistent with our strategy of utilizing experienced broadcast producers, editors and subject matter specialists to create, manage, and deliver compelling content. We are delivering on the promise of growth we sought at the inception of our enterprise," Williams said. Dallenbach, who currently calls the action Championship Off-Road Racing, NASCAR, and several other national and international racing series, has more than 27 wins in his 20-year racing career. His victories include four trips to the winner's circle in the prestigious 24 Hours of Daytona.
About KDHD TV, LLC
KDHD.TV, LLC founder Kyle Williams is a seasoned producer of targeted Satellite Media Tours, video news release, airline in-flight programming, and web casts. With over 20 years in television broadcast journalism, Williams brings his wealth of knowledge and expertise to KDHD.TV, LLC, offering his clients a team of experts whose backgrounds include program development; satellite media tour development and placement, public relations and sales. Kyle can be reached at kyle@kdhd.tv.
Website: http://www.kdhd.tv
All trademarks acknowledged.
[tags]Satellite Media Tours, video news release, airline in-flight programming, producer Kyle Williams, KDHD-TV LLC, Broadcaster Wally Dallenbach Jr[/tags]