Tags
Holt and Grooms Co. Ltd.
Tag: Holt and Grooms Co. Ltd.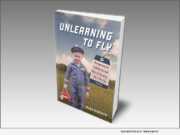 Product Launches: -- A new memoir, a powerful coming of age tale, is set to release this fall. "Unlearning to Fly: A Memoir of Navigating the Turbulence and Bliss of Growing Up in the Sky" (ISBN: 978-1735641300), gives a detailed account of how the author, Russ Roberts, not only helped blow up his backyard with dynamite, but also shared a Volkswagen with a moose.