PHOENIX, Ariz. — STG Retail Direct has recently been selected by Amerimex DSD as an exclusive brand manager for U.S. based brands. Additionally, Amerimex DSD is helping expand retail distribution of STG clients to 100,000 national C-Stores as well as to Mexico and Japan. STG Retail Direct is honored to be able to work with Amerimex DSD's team to provide current and new clients with an array of retail distribution opportunities. Amerimex DSD's sales team is equipped to launch a campaign through: grocery stores, pharmacies, convenience stores, specialty stores, vitamin stores, hardware stores, auto part stores and club stores nationwide and in the United States, Mexico and Japan. Amerimex DSD handles every aspect of the sales and distribution from distributor management to exporting.
"We are thrilled to be named the exclusive brand manager for Amerimex DSD, their capacity to provide our clients with the fastest way of acquiring national and international sales and distribution has already proven to be a great asset to the company," said the CEO of STG Media Corp, Thomas Lark.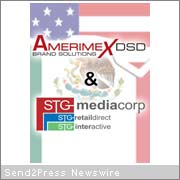 "We can now provide our clients with a one stop shop for brand growth and development; we can do anything for our clients from developing highly targeted media campaigns to expanding and managing international retail distribution."
"We chose to work with STG based on their extensive marketing capabilities," said President of Amerimex DSD, Jorge Olson. "When expanding retail distribution nationally and internationally we have found that it is essential to have the right media support behind the product to ensure the vitality of the product."
STG will filter brands to Amerimex DSD with a proven track record and marketability. STG's family of companies will be operating with Amerimex DSD to support brands through print campaigns, TV and radio campaigns and interactive development.
STG Media Corp., STG Retail Direct, and STG Interactive, LLC, work together to develop and execute strategic, national marketing campaigns. Based in Tempe, AZ, STG Media is a full-service advertising agency specializing in creative and media buying for print, television and radio and internet.
STG Retail Direct places products directly on the shelves of Wal-Mart, Walgreens, CVS, Target, GNC, and thousands of grocery and convenience stores nationwide. Helping clients to maximize their ad dollars, STG works hand in hand with AmeriMex DSD, a master distributor and brand management company with capabilities to place products on the check-out counters in over 100,000 C-Stores in the USA with a proven market blitz program and also export products in mass to Mexico and Japan.
STG Interactive develops cutting-edge E-commerce solutions in addition to search engine optimization and search engine marketing. STG's family of companies helps clients navigate through the complex landscape of opportunities that exist within the context of modern, cross-media campaigns.
For more information about the STG family of companies, call toll-free: 866-834-4370 or visit our website http://pr.printad.info/16 (redirects to STG portal).
[tags]Amerimex DSD distribution, STG Retail Direct, Jorge Olson, CEO Thomas Lark, retail brand management[/tags]