WAYNE, N.J. — In today's current economic climate of cut backs and layoffs, it's refreshing to learn about a company that is actually adding a new service and for free! The Ballantine Corporation, a full-service direct mail company, announces that they are now offering all clients free proofreading before their projects go to press. "Offering this value-added service to our clients was a natural addition to what we already do for them," Ryan Cote, Director of Marketing, The Ballantine Corporation, explains. "We always aim to provide our clients with peace of mind. We want them to feel comfortable and reassured that their direct mail projects are in the right hands."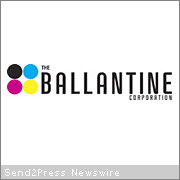 Before a client's direct mail artwork goes to press, The Ballantine Corporation will utilize a two-person professional team to proofread for spelling and grammar errors. There is no limit on project size – proofreading is free for projects large and small.
Not all companies have in-house proofreaders or other staff and an extra set of eyes is always a good idea.
Proven by their client testimonials, The Ballantine Corporation already has an excellent reputation for providing top-quality customer service. By adding a free proofreading service, they are demonstrating their commitment to continuing to serve their clients with a high level of project support.
Their client database is diverse and includes publishing companies, travel and resorts, financial and insurance companies and more. Many of their client projects are intensive when it comes to copy, so free proofreading is a service that their clients can really value.
About The Ballantine Corporation
The Ballantine Corporation is family-owned and operated. They have been in business for more than 42 years. Their direct mail services include: print production and mailing; creative services; digital printing services; variable printing and web-to-print portals.
For more information about Ballantine, visit: www.Ballantine.com; or check out their blog at: www.Ballantine.com/blog.
Send2Press® is the originating wire service for this story.