Copywriters and art directors get much of the attention in the ad world, but Scott G is one creative director who claims it's the account management function that controls how a campaign soars or collapses.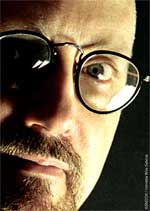 Every year, accolades and awards are handed out to creative directors, copywriters and art directors for sleek, slick, oh-so-clever print ads, commercials, outdoor messages, interactive communications, and even direct response sales efforts.
It's a good feeling to win. I've had my work shown at Cannes, screened during the San Francisco International Film Festival, and played at various ad club awards ceremonies, and it's a kick every time.
Kinda-sorta.
Because, realistically, what this means is that I have watched a muttering half-drunk crowd impatiently pretend to pay attention as one of my commercials is played.
But perhaps they're right to remain unmoved. True, I'm part of the creative brain trust that brought the campaigns to life, but I'm rarely part of the team that convinces a client to pay for them.
Who's in Charge?
The account management team is supposed to be smart enough to recognize great creative work and strong enough to persuade, cajole, influence, and/or induce the client to go with the ideas.
But it doesn't always work out the way you'd like. I worked with the ad agency that helped Shakey's Pizza franchise owners achieve 72 straight months of double-digit sales increases, and then watched that streak die with one campaign that ran only a week.
What was the difference? The account managers lost control of the client. An account executive returning from a meeting during this period of time began a comment about the creative work with the immortal words, "The client's wife felt that. . ." You don't need to hear the rest of the sentence to know that nobody was steering the ship at that point.
Is it the Work or the Schmoozing?
Creatives have long blamed clients for choosing ad agencies based on who plays a good (i.e. losing) game of golf. This was discussed not long ago in the Adrants section of Soflow.com.
"This is the communications business," says Ed Walsh. "The bottom line is how well you can communicate, whether on the golf course, at the cocktail party, in the elevator, in the board room, at the client meeting." He goes on to say that "Great ideas by themselves rarely have the legs to rise above everyday concepts unless someone has the ability to present them in an environment of believability, acceptability and trust."
Ray Podder agrees, and adds that "the purpose of the advertising business today is still about getting more advertising through, and so the focus is on the efficiency/effectiveness of the delivery…even though we all know that it should be about making deeper connections with people."
One possible solution that Podder and I agree on lies in turning advertising into information.
The ways we do this are many and varied:
– Ads that customers don't consider ads.
– Advertising working with interactivity.
– Ads that sell in a subtle manner.
– Advertising that blends with public relations.
Now, where are the account management teams that will help us sell these concepts? Because without strong AEs, those of us in the creative department are just making sleek sounds and pretty pictures.