COLUMN: Billions in bucks are being paid out to be official sponsors of the Beijing Olympic Games but there is already one big winner: Apple. Capitalism comes to communist China and both ideologies are the worse for it. According to Advertising Age magazine, sixty-three sponsorship and/or partnership arrangements have been made between corporations and the Beijing Olympics, with a reported four to six billion dollars changing hands for the privilege of getting into bed with the repressive regime.
Just to keep that dollar figure in perspective, it is somewhere between $4,000,000,000 and $6,000,000,000. But I don't believe that counts the local ads we're all enduring here at home. Taken altogether, it is a stunning waste of time, energy, talent, and economics.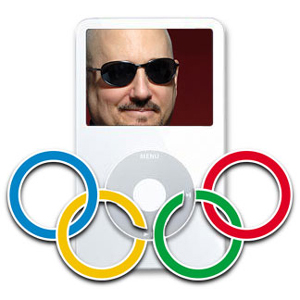 All anger aside, I will admit it is entertaining to watch the pandering on the part of the world's corporations. Invite friends over to play a few rounds of Whose Ads Are the Scummiest? No extra points for the firms with the most dubious relationship to athletics, including Coca-Cola, McDonald's, Budweiser, and BHP Billiton. (Don't recognize that last one? Talk to anyone living near one of their gargantuan land-defacing mine operations if you'd like to learn about that collection of friendly folks.)
Once past the silliness of the ads for John McCain, we're left to blur our eyes at hype for Panasonic, Samsung and General Electric; Nike, Adidas, and Kodak; Volkswagen, Visa, and UPS; Johnson & Johnson, Staples, and Lenovo (China's largest PC manufacturer, as far as I know). It's mind-numbing, all this scratching for awareness, buzz, mindshare, and brand identity.
There is one clear winner in the Bei-ca-ching advertising and branding sweepstakes…
Apple.
Yes, I know they don't appear to be on any of the lists of official partners, sponsors or suppliers. Yes, I know they don't seem to be purchasing any ads. But what is the one thing viewers keep seeing on such athletes as super swimmer Michael Phelps? The distinctive white ear buds of Apple's iPod.
This may be the finest example of product placement in world history. And it may have cost Apple absolutely nothing.
How do we know those ear buds are attached to an Apple product, I hear someone ask. Couldn't they actually hook up to a Zune?
Well, no.
First of all, Michael Phelps is a winner.
Second, and most important, it doesn't matter if they're hooked up to an Apple product, a Zune, or nothing at all (sorry to repeat myself). The point is that Apple owns the white cord and buds so when you see them, you think "Apple." I do believe they call that part of the branding thing.
It takes big brains but it doesn't necessarily take a big budget.
Photo of John Scott G by Snook/Immedia Wire Service.
[tags]Beijing, Olympics, Michael Phelps, Apple, iPod, Zune, marketing, branding, Scott G, The G-Man[/tags]