SAN FRANCISCO, Calif. — LocaModa, a technology company providing an interactive media platform that connects digital out-of-home, mobile and web networks, today announced a partnership with Ecast to bring its social media applications to the largest broadband touchscreen media network in the United States. Ecast, which provides digital music, advertising and entertainment to more than 10,000 bars and nightclubs nationwide, has licensed LocaModa's Embedded platform and a number of applications for use on its revolutionary in-venue entertainment solution, Ecast EQ(TM). Wiffiti(TM), a LocaModa application currently deployed on ECast EQ, allows bar patrons to send text messages directly to EQ screens, using it as a way to flirt, joke and chat with others in the venue or on-line.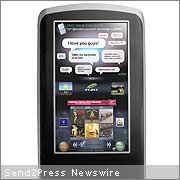 The upcoming version of Wiffiti supports tagged messages and enables network operators or venues to create feeds that are both location and context aware. For example a sports bar in Boston may create feeds of user generated messages from sites such as Twitter with the words "Red Sox" sent by users less than 5 miles away from the venue.
Designed to appeal to today's digitally savvy, young consumers, Ecast EQ presents a radically different approach to traditional on-premise entertainment. It features a vertically oriented, 40-inch flat-panel design with a high-definition (HD) touchscreen for interactive consumer engagement. Ecast EQ delivers on-demand content — including video, real-time interactive surveys and games, advertising, social applications and a jukebox interface for music — to out-of-home venues frequented by 21- to 34-year-olds. Fully enabled with broadband Internet, Ecast EQ provides an ideal vehicle for LocaModa's social interactive applications (http://locamoda.com/applications/).
"Ecast EQ's large vertical screen is a perfect canvas for engaging users with our mobile interactive applications," said Stephen Randall, CEO LocaModa. "Together we are able to offer the familiar online experience of sites like Facebook and Twitter to bars and nightclubs."
This seamless extension of the Internet to the out-of-home market presented by LocaModa and Ecast offers advertisers unprecedented out-of-home measurement. For example, LocaModa's interactive media platform (http://locamoda.com/solutions) remembers users by tagging their mobile devices, enabling a sponsor to receive data on how many users interacted with its brand. In addition, the Ecast platform leverages industry-standard DoubleClick(TM) ad serving technology to provide the same targeting and reporting capabilities as leading online entities.
"LocaModa is a great partner to help bring Ecast EQ to life," said John Taylor, chief executive officer, Ecast. "Ecast has always focused on delivering an experience that delights and engages consumers. We believe the combination of EQ and LocaModa's social media capabilities will significantly shift how consumers experience and interact with entertainment out of home."
Ecast EQ installations showing the LocaModa Wifitti application are currently running in New York, Chicago, Minneapolis, L.A., San Francisco and Seattle. Full nationwide rollout is scheduled for later this fall.
About LocaModa
LocaModa is a technology company that provides an interactive media platform connecting digital out-of-home, mobile and web networks. The company's platform connects people and places, enabling them to access and control media in their favorite places and online. LocaModa connects people in bars, cafes, colleges, public spaces and conferences. The company is privately held, headquartered in Massachusetts and founded by Stephen Randall, a former EVP/Founder of Symbian. True to its global vision, LocaModa is internationally backed by Dace Ventures in USA, Mahindra Group in India and Sumitomo Corporation of Japan, via its U.S.-based strategic investing arm, PresidioSTX.
For more information on LocaModa, please visit http://www.locamoda.com.
ABOUT ECAST:
Ecast operates one of the leading broadband touchscreen media networks in the United States, providing digital music to over 10,000 bars and nightclubs across the country. The unique touchscreen music service allows locations to put the power of choice where it should be: with the consumer. Utilizing the speed and scalability of broadband, Ecast delivers music, advertising and other forms of entertainment to the young-adults most responsible for affecting purchasing decisions and consumer trends. Ecast is changing the way people listen to music in public places and revolutionizing out-of-home advertising. Ecast's investment partners include Crosslink Capital, DCM, El Dorado Ventures, Focus Ventures and Mobius Venture Capital. For more information, please visit http://www.ecastnetwork.com.
All trademarks acknowledged.
[tags]LocaModa Wifitti application, ECast EQ broadband touchscreen media network, CEO Stephen Randall[/tags]