NORTH VANCOUVER, B.C. — Having difficulty getting people to respond to an invitation? Not enough people registered for an event? ePly, an online event registration service, makes it simple for people to register and maximizes results. ePly provides online event registration forms for conferences and events. All of the conference registration forms ePly creates are confined to one page, making the process short, sweet, and simple.
"Almost all other companies who offer the same service have a system where people have to click through several pages to complete the various online registrations," Jim Romanik, president, ePly, explains. "Systems with multiple pages can cause people to get lost in the process and information can also be lost if the browser's back button is used."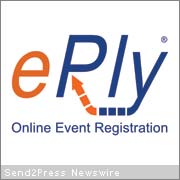 ePly's one-page conference registration forms eliminate these problems. These practical and easy-to-use online event registration forms allow people registering for events to scroll up and down to see what information they need to provide before they start entering their details. They can review their information before they click submit and since it is designed much like a paper-based registration form, it's attractive to less Internet-savvy users.
Meeting and event planning professionals will also benefit. ePly covers every phase of the online event registration process from form planning, design, programming and testing to payment processing and refund management. It provides all the necessary tools for reporting so planners can focus on what they do best — planning the actual event.
"The ePly tool made dealing with conference registration, refunds, and reporting a breeze," Laurie Monserrat, one conference planner, explains. "It was a great solution for the 'joys' of event planning."
ePly will also custom design conference registration forms to resemble company web sites. They understand that branding and image are important and that a successful event is the bottom line.
In addition to standard credit card processing, refunds and check payment facilitation, ePly also offers tax reporting and tracking, group registration, and more, all within a single conference registration form. They even have real-time management of limited seating to prevent overbooking.
"We can virtually meet any requirements that special event and conference coordinators may have," Romanik says.
The ePly web site also offers tips for successful event planning; how to avoid common event planning pitfalls; and much more.
For more information, visit: http://www.eply.com.
[tags]Jim Romanik, ePly Services Inc, online event registration system, event planning and marketing[/tags]