EXETER, Calif. — Guangdong Food Industry Institute (GDFII/L&P Food), a leading and first manufacturer of Sucralose in China, announced that today, Administrative Law Judge Charles E. Bullock of the United States International Trade Commission (ITC) has issued his initial determination on Tate & Lyle's Section 337 complaint (docket# 337-TA-604). The complaint alleged infringement of process patents relating to the production of sucralose and certain intermediate compounds. Judge Bullock's determination states that GDFII/L&P do not infringe any of the Sucralose patents alleged by Tate & Lyle.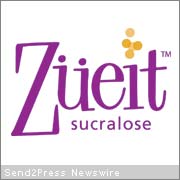 Mr. Wang Sanyong, a corporate officer of GDFII/L&P Food commented, "We are ecstatic with the determination handed down by the ITC. The initial determination has reaffirmed the strength and innovation of our capability and processes, and the integrity of our Sucralose technology and our company."
Roger Matkin, CEO of Ingredient Specialties, Inc., the international marketing and distribution arm of L&P/GDFII, echoed Wang's remarks by saying, "The International Trade Commission has reassured the international business community and consumers alike, that our manufacturing partner's years of Sucralose research and development were not done in vain. They [ITC] confirmed what we have known for years – that GDFII/L&P has indeed created a unique way to manufacture Sucralose that competes fairly in world markets. This expected positive determination fuels our planned marketing and sales expansion of our Zueit(TM) Sucralose brand worldwide to established multinationals and smaller manufacturers alike."
Guangdong Food Industry Institute/L&P Food Ingredient Co. Ltd. (GDFII/L&P) is a specialty ingredients manufacturer that pioneered the development and manufacturing of Sucralose in China. GDFII/L&P also engages in the production of many new and innovative nutraceutical and health food ingredients, including: polyphenols, functional food/dietary fibers and other natural and plant derived ingredients. GDFII/L&P, headquartered in Guangdong Province, China in alliance with Ingredient Specialties, Inc. in Exeter, California, provides a global distribution network that markets Zueit(TM) brand sucralose to the food, beverage, nutraceutical and pharmaceutical industries as a high intensity, non-caloric sweetener. Zueit(TM) is a trademark of Ingredient Specialties, Inc. Exeter, CA, USA.
For more information visit: http://www.gdfii.com or http://www.ingredientspecialties.com .
[tags]Ingredient Specialties Inc, Zueit brand sucralose, Guangdong Food Industry Institute, non-caloric sweetener, CEO Roger Matkin, Wang Sanyong, Tate and Lyle Section 337 complaint[/tags]