MIAMI, Fla. — Home Shopping Latino, Inc. (Pink Sheets: HSPL) today announced that Ms. Rosario Moreno has joined Home Shopping Latino, as it prepares to launch its Shopping Channel. Rosario will report directly to Federico Teran, Chief Operating Officer. Ms. Moreno brings a 30 year experience in DRTV and television. She has created and produced first time DRTV and PR campaigns for top companies like Procter and Gamble and Unilever. She has designed programs to promote established brands like Pepsi, AT&T, Green Giant, Cap'n Crunch, Nestle, Chevrolet, Disney World of Children, Disney Records and Chrysler Corporation to modern entities such as Bankinternet .com and CinemaniaNetwork .com.
She has consulted in the development of marketing strategies for the Edinburgh Business School's MBA Distance Program, successfully selling in LATAM for over a year and soon to launch in the U.S. Hispanic market. One of Ms. Moreno's DRTV campaigns was nominated for an Emmy, a first in the industry.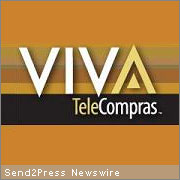 "We are delighted to have Ms. Moreno on board. Her knowledge of the DRTV market will bring critical expertise to our product. Her first assignment will be to generate product excitement as we launch our network," says Frank Celecia, Chairman and CEO of Home Shopping Latino, Inc.

About Home Shopping Latino, Inc.
Home Shopping Latino, Inc., dba Viva Telecompras, is an all Spanish Language Television Channel and online shopping website. Planned offerings include jewelry, gemstones, beauty care products, and vitamins. In addition, the network intends to offer its own credit card and payment plan for higher-priced items. Expecting to tap into the considerable spending power of this growing U.S. population, Viva Telecompras and its accompanying website, www.vivatelecompras.com, will fill a niche required by 13 million Hispanic homes.
Home Shopping Latino, Inc. is headquartered in Carson, Nevada, and is traded on the OTC under the symbol HSPL.PK / PINK:HSPL.
For more information about Home Shopping Latino, please visit http://www.vivatelecompras.com .
[tags]Home Shopping Latino, Viva Telecompras, Rosario Moreno, Spanish Language Television Channel, DRTV market[/tags]