GRAHAM, Texas — For years, Pat Summerall has provided analysis and color commentary for the premier talent from around the nation. Whether broadcasting 16 Super Bowls or providing in-depth analysis of top high school talent via his nationally syndicated Sports Stars of Tomorrow and Future Phenoms, Pat Summerall knows talent when he sees it.
So when the opportunity to represent renowned sports facility builder Southern Bleacher Company of Graham, Texas arose, Pat jumped at the chance.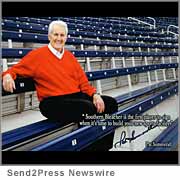 Said Pat, "Southern Bleacher is the first player to sign when it's time to build your new sports facility." Whether you are a small ISD or a top-tier university, Southern Bleacher has made its mark in the industry by constantly finding new ways of addressing facility designs and the seating systems required.
Solving customer's needs while providing superior products with innovation has always been a priority for Southern Bleacher and sets them apart from the competition.
Stated Garrett Pettus from Southern Bleacher, "We are honored and pleased to be associated with Hall of Famer Pat Summerall. From his early days as an athlete at the University of Arkansas to his NFL days as a place kicker to his decades of excellence in the TV/radio booth, Pat has always been at the top of his game. We'd like to think, too, that we at Southern Bleacher are at the top of our game as well. "
Southern Bleacher Company is a 3rd generation, family owned and operated company that takes pride in their commitment to excellence.
More information: http://www.southernbleacher.com .
[tags]hall of famer Pat Summerall, Southern Bleacher Company, Garrett Pettus, sports facility designs, staidum seating systems[/tags]