Iamota and AppLocation Team Up to Deliver Location Aware Mobile Content and Services
VANCOUVER, Canada — Pete Smyth, President, CEO and Founder of Iamota Corporation and Gary Hartwig, President of AppLocation Systems Inc. announced today the availability of location aware mobile content and services. By combining Iamota's proprietary end-to-end mobile marketing, messaging and payment platform with AppLocation's carrier grade MOBILEFusion(TM) platform, brands can now deliver location sensitive services and features.
Iamota Impulse, Iamota Impact and Iamota iCast enable mobile payment, deliver mobile content and marketing campaigns, and extend social networks directly to wireless handheld devices. MOBILEFusion provides location awareness and location sensitive content. Features such as mapping, routing, presence awareness, notifications, opt-in privacy, and security are provided through this partnership.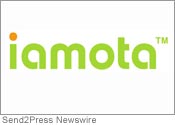 Iamota will work with AppLocation in a variety of applications. "This is a good strategic fit for us. AppLocation designed their MOBILEFusion platform thinking much the same way we did – they began with the end in mind. It is a modular, scalable interface that works with any wireless device. I've seen it work and they got it right," stated Iamota CEO, Pete Smyth. "We were looking to partner with someone who really knows the telematics and location based services business and could easily walk between the enterprise and consumer worlds."
AppLocation President, Hartwig responded by adding, "The combination of location and wireless connectivity can be powerful for both consumers and businesses. For example, we can deliver specific information and media to transit riders with MOBILEFusion and Iamota. If a transit rider is sitting in a downtown Vancouver office on a rainy day and wants to know if the bus is going to be late, it is possible to opt-in for on time bus services. Better than that though, by connecting location of the handset and the bus, the rider can request messaging services to be advised if the bus is late and also be sent a coupon to have a beer at the nearest pub instead."
Iamota CEO, Smyth went on to say, "Adding location awareness and navigation capability to our Iamota platform is a huge benefit for our customers. Connecting to the mobile world in real time, where the user is, with contextual media and location awareness gives global brands the power to deliver rich digital content that is customizable and delivered on an opt-in basis."
About Iamota Corporation
Iamota is a Mobile Application Service Provider (MASP) that operates a proprietary end-to-end mobile marketing, messaging & payment platform providing access to mobile consumers across North America. Iamota connects online merchants, brands, large enterprises, marketers, ad agencies, bloggers & members of social networks with mobile phone users.
Iamota eliminates the complexity involved in both the mobile content creation and delivery process, and the establishment of mobile payment options. Iamota manages security, mobile device compatibility, specific carrier rules, content retrieval, device formatting and billing.
Iamota Corporation is a venture-backed, privately-held company with headquarters in Vancouver, Canada and U.S. offices in Scottsdale, AZ.
For more information about Iamota, go to:
http://www.iamota.com
About AppLocation Systems Inc.
Founded in 2002, AppLocation Systems Inc is a Location Based Services and Real Time Location mobile technology company bringing innovative wireless and LBS solutions to enterprise clients. Our collective 30 years experience in advanced tracking and mobile technology for global telecommunication companies equips us with the insight and advantage to go beyond tracking applications.
MOBILEFusion is a carrier grade platform that links telco networks to location sensitive applications. The convergence of GPS and LBS requires a next generation wireless plug and play platform to drive adoption of location for enterprise and consumer applications. AppLocation uses its expertise in location based services and its web-based MOBILEFusion(TM) platform to track assets wirelessly improving our client's logistic and supply chain business decisions on land, on water, and in the air – utilizing the latest technology in CDMA/GPRS/Satellite devices, mapping, sensors, RFID, RTLS and wireless network management.
For more information about AppLocation, go to:
http://www.applocation.net
[tags]AppLocation MOBILEFusion platform, mobile marketing, messaging and payment, Iamota Corporation, AppLocation Systems Inc[/tags]