The Los Angeles Times Completes Sale of Recycler Classifieds to Target Media Partners
LOS ANGELES, Calif. — The Los Angeles Times Media Group today announced the sale of Recycler Classifieds, publisher of four editions of the pioneering Recycler free classified advertising paper and eleven weekly and bi-weekly photo ad and employment guides throughout Southern California, as well as operator of the popular Recycler.com website, to Target Media Partners. Financial terms of the transaction were not disclosed.
"Recycler has been a valuable asset in the Los Angeles Times Media Group's diversified portfolio of products," said Bob Bellack, senior vice president of the Los Angeles Times Media Group. "However, this strategic transaction will better focus our online and classified resources to meet the evolving needs of readers, users and advertisers in Southern California as we head into the future."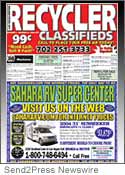 As part of the agreement with Target Media Partners, The Times and Recycler Classifieds will continue their current online distribution relationship whereby Cars.com powers the automotive functionality on the Recycler.com site.
"We welcome all of Recycler's employees, 15 publications, and Recycler.com's almost 500,000 monthly unique users to the Target Media family," said Mark Schiffmacher, CEO of Target Media Partners. "Recycler's advertisers can look forward to expansion of the free ad concept it introduced more than 25 years ago and we are pleased that Recycler.com's business relationship with The Times and Cars.com will continue and grow."
About the Los Angeles Times
The Los Angeles Times is the largest metropolitan daily newspaper in the country, with a daily readership of 2.2 million and 3.3 million on Sunday. The Los Angeles Times and its media businesses and affiliates – including latimes.com, The Envelope/theenvelope.com, Times Community Newspapers, Hoy, and California Community News – reach approximately 8.1 million or 62% of all adults in the Southern California marketplace.
The Pulitzer Prize-winning Los Angeles Times, has been covering Southern California for over 125 years and is part of Tribune Company (NYSE: TRB), one of the country's leading media companies with businesses in publishing, the Internet and broadcasting. Additional information about the Los Angeles Times is available at http://www.latimes.com/mediacenter.
About Target Media Partners
Target Media Partners is a leading print and on-line publisher with more than 75 local classified, photo and other specialty advertising products in 26 states, as well as 10 national publications targeting long-haul truck drivers. Its print products have monthly circulation of more than 6 million copies, and with more than 1 million unique visitors and 15 million page views each month, Target Media's 40 websites complement its print publications by enhancing local and niche brand names and increasing advertiser response.
In its 10th year of operation, Target Media Partners – www.targetmediapartners.com – is headquartered in Los Angeles.
[tags]specialty advertising products, Target Media Partners, free classified advertising paper, Recycler Classifieds, Los Angeles Times Media Group[/tags]