BOONTON, N.J. — The hospitals, physicians, pharmaceutical companies, and insurance providers that make up the $2.3 trillion US healthcare system will be spending $55 billion on telecommunications services over the next five years, says a new market research study released by the Insight Research Corporation. According to the market analysis study, spending by the US healthcare industry on telecommunications services will grow at a compounded rate of 8.4 percent over the forecast period, increasing from $7.5 billion in 2008 to $11.3 billion in 2013.
According to the report, "Telecom, IT, and Healthcare: Wireless, Wireline and Digital Healthcare, 2008-2013," forces external to the healthcare industry, including an aging population and worker shortages are pushing the industry to find alternative approaches to current business practices.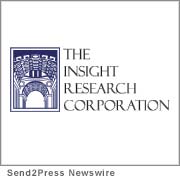 Better practices are expected to rely heavily on telecommunications services. Most of the high costs inherent in the current system are related to the proximity of the patient and provider, as well as to the archaic administrative systems used to manage records and exchange information. Telecommunications can bridge these proximity gaps as well as provide a normalized set of baseline data that can remain secure and yet be shared among healthcare workers.
"Many of the trends we predicted in our previous study of the health care and telecommunications segments have come to pass, including increases in per capita spending, insurance premiums, and rates of treatment," says Insight Research president Robert Rosenberg. "Telecommunications and information technology providers have responded with more bandwidth, packet services, healthcare applications (video monitoring, electronic health records, and telemedicine), and wireless access to pull costs out of the current healthcare system," Rosenberg concluded."
A free report excerpt, table of contents, and ordering information for "Telecom, IT, and Healthcare: Wireless, Wireline and Digital Healthcare, 2008-2013" can be found online at:
http://www.insight-corp.com/reports/telehealth08.asp.
The full, 129-page report is available immediately for $3,995 (hard copy). Adobe Acrobat (PDF) report licenses are also offered. Visit our website or call (973) 541-9600 for details.
[tags]Insight Research Corporation, healthcare industry spending on telecom, Robert Rosenberg, telemedicine market report[/tags]