BOONTON, N.J. — Until recently, there has been a chasm between PC video and home television viewing. A welter of devices, however, will soon be bridging that divide and will bring Internet video onto the home screen-forever changing the economics of home entertainment, says a new market research study released by the INSIGHT Research Corporation. The lynchpin in this home entertainment revolution will be the devices connecting the Internet to television screens. Satellite and cable set top boxes, wireless handsets, digital adapter boxes, audio/video players, game consoles, IPTV set top boxes offered by telephone companies, and various video recording and playback devices will be included.
According to the report, "Internet Video & The Next-Gen Set Top Box: A Revolution in Access Devices, 2008-2013," these new home gateways to the Internet will break the bonds that tied together the aggregation and distribution functions performed by the cable and broadcast TV networks-because Internet access reduces the barriers to entering the distribution business to almost zero.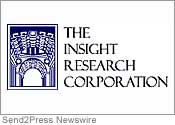 If distribution of content is easy and nearly free, the formerly entwined relationship of entertainment aggregation and distribution provided by cable and broadcast networks comes loose, and the advertising revenue that long supported it moves to an Internet model of clicks and counts.
"The walled garden of the cable and broadcast TV networks is going to start to disappear over the next 36 months as more and more video entertainment becomes accessible to these Internet-enabled entertainment gateway devices," says INSIGHT Research president Robert Rosenberg. "We are projecting that revenue from Internet video content and advertising will grow at a compounded rate of nearly 50 percent over the next five years as this market takes off," Rosenberg concluded.
A free report excerpt, table of contents, and ordering information for "Internet Video & The Next-Gen Set Top Box: A Revolution in Access Devices, 2008-2013" can be found online at:
http://www.insight-corp.com/reports/settop08.asp .
The full, 116-page report is available immediately for $3,995 (hard copy). Adobe Acrobat (PDF) report licenses are also offered. Visit our website or call (973) 541-9600 for details.
[tags]Insight Research Corporation, Internet Video market research study, Robert Rosenberg[/tags]