LOS ANGELES, Calif. — Media Mayhem Corporation (MMC) announced this week that the company has assumed a "tight control" on the war for breaking multi-media platform strategy in a field that chews companies up and spits them out when they cannot produce what the client needs in today's ever changing online advertising world. True multi-platform media marketing is a strategy that is now being accepted as the stand alone gold standard in the industry and MMC has found a way to capitalize on the marketing concept with its client roster that is growing like a California wildfire in the summertime.
"Media Mayhem Corporation understands the need for the now and not for the then," says V.P. Business Development Jamie Ashe. "We are the one company that knows the (how) right off the bat so our clients know already walking in the door that it isn't a question of whether we can provide them a strategy to win but can we live up to the hype that so many agencies and firms brag about. The answer is unequivocally yes without a doubt. We don't come to work to fail, we come to work to win and if that means we spend off hours getting a big job done right, it gets done right."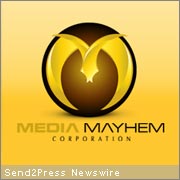 Media Mayhem Corporation has already conquered what so many are just trying to get off the ground with their companies. The company has already shifted their operations into gear and applied technologies such as mobile and digital advertising, podcasting, live streaming, live interactive streaming, offline events, sponsorships, footpath tracking technology, live interactive surveys among others.
"Just the tip of the iceberg," says CEO Jeff Chi. "We are using 'OTA' (over the air transfer) as we mainstream our bowl of resources together and converge synergistic campaigns both on and offline for our clients and adding in mainstream and non-mainstream concepts – not just banners anymore."
"If you want what you want then you should be able to get it," adds Chi. "With a powerful sales force automation, intimate and bullet proof customer service management, and all of the cutting edge concepts already being used in our day to day operations, the only way we can fail is if we stopped caring about what we do and who we do it for, and that is one thing MMC is not going to do. Ever."
Media Mayhem's slogan of "fusing experience, strategy, technology and drive" describes a full-service advertising representation firm. Their services include online and offline marketing, and event sponsorships. They specialize in building lifestyle-based advertising solutions for their clients and engaging consumer audiences through branded film, music, art, fashion, sports, technology, entertainment and lifestyle experiences, across niche vertical markets.
Media Mayhem is a firm that goes far beyond a typical online advertising network. They represent all of their publishers on an exclusive site-specific basis allowing advertising clients to customize their advertising and media buys. They allow clients to pick and choose individual websites in order to meet their campaign's target demographic. MMC engages trade and consumer media by leveraging their access and relationships to position clients directly with the key elements that drive popular culture and create new markets of opportunity.
MMC is now recognized to maximize client investments by delivering strategic insight, direct-access relationships and execution across a broad range of global resources. They exercise professional program management throughout their enterprise to deliver flawless results, utilizing the latest in technology, creative services and design to produce cutting-edge environments and experiences for clients – all turnkey and on budget. They maintain a successful track record supporting major corporations with a wide range of strategic and tactical communications programs and projects.
MMC believes that in order to be heard, brands today must engage consumers not only through traditional media, but through live and experiential platforms that speak to the lifestyle which each consumer embraces as their own. They believe lifestyle, music, fashion, film, sports and art are the core passion points of the consumer lifestyle, and form the building blocks for using media as a vehicle to capture mindshare, market share and media for client brands.
This is an advertising representation firm that believes that a company's media, promotions and public relations strategy must integrate with its advertising strategy. Campaigns that are scalable and broad in scope, both culturally and demographically, and attract enormous media coverage and continue to grow as consumers look for ways to engage in new and nostalgic experiences with family/peers.
As such, they focus on using online and offline initiatives as a medium that delivers an ongoing emotional attachment between companies and their target consumers to drive brand awareness, brand loyalty and brand demand.
More information: http://www.mediamayhemcorp.com

[tags]Media Mayhem Corporation, multimedia platform marketing, advertising representation firm, CEO Jeff Chi, over the air transfer[/tags]