Wrongful Termination Lawsuit by Former CFO alleges that Signatures fraudulently deprived major musical artists of millions of dollars in royalty payments
SAN FRANCISCO, Calif. — The law firm of Rukin Hyland Doria & Tindall LLP has filed a lawsuit on behalf of the former CFO of Signatures Network Inc. (SNI) in California Superior Court (Case No. CGC-08-472337) charging that SNI wrongfully terminated him after he protested allegedly fraudulent practices at the company that deprived its musical artists of millions of dollars in royalty payments.
One of the largest music merchandising and artist fan club companies in the world, SNI holds or has held contracts with numerous major recording artists, including Madonna, U2, Bruce Springsteen, Jennifer Lopez, Ozzy Osbourne, Kiss, Coldplay and Justin Timberlake.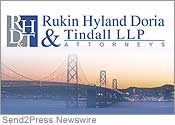 The complaint charges that SNI engaged in ongoing fraudulent practices which included fraudulently charging overhead costs to artists and assessing manufactured credits against artists' royalties.
The suit also alleges that SNI's CFO repeatedly protested the practices to the company's CEO and COO after learning of them, but the practices continued. The lawsuit charges that SNI later fired the CFO because of his complaints.
Last November, SNI announced that it was being acquired by Live Nation Artists, a unit of live entertainment promoter and venue management company Live Nation, Inc. Live Nation is also named as a defendant in the case.
The suit, Chantel v. Signatures Network, Inc., was filed by attorneys from Rukin Hyland Doria & Tindall LLP (www.rhdtlaw.com).
Further Information
Members of the media can obtain a copy of the complaint by contacting Stephanie Doria at Rukin Hyland Doria & Tindall by e-mail at media@rhdtlaw.com.
All trademarks acknowledged. Mention of any artist does not imply an endorsement or participation in this legal matter.
[tags]Rukin Hyland Doria and Tindall LLP, live entertainment promoter, entertainment venue management, music merchandising, artist fan club companies, Signatures Network Inc lawsuit[/tags]