TEMPE, Ariz. — STG Media Corp and STG Retail Direct are taking the beverage market to the next level by launching the Extenze Beverage, the first and largest male enhancement drink on the market. "We are very excited to bring this product to market. It's a one of a kind product, and while it's targeting the male consumer, it still brings something for the ladies," COO of STG Media, Kristen Orton said.
"Extenze is big, it will make you big and there is 16 ounces of it," said CEO of the top tier mainstream retail brokerage, STG Retail Direct, Ed Ellis.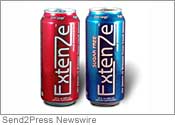 "Some say these guys are mavericks, but they get the job done!" says Robert Winter, CEO of Extenze. "Ed Ellis and Thomas Lark are the CEO tag team pushing the drink market into a new category with their top selling client and brand EXTENZE."
"This is the first mass market, over the top beverage of its kind," said Thomas Lark CEO of STG Media Corp. When our client came to us and said line extension, beverage, get it done! I thought to myself, what? Are you kidding?" Ellis said, "when Lark said, this is our new line extension that we are taking national, I said I think you need break, take some time off!" But 10 focus groups later through tasting, and design; I knew this was a home run."
STG Retail Direct will be premiering Extenze in C-store locations nationwide, which consists of rolling the distribution out to over 40,000 specialty and convenience stores. "The Extenze Pill is the number one male enhancement pill on the market, we are very excited to launch the beverage brand," said the CEO of STG Retail Direct, Ed Ellis. "Creating a market for the Extenze Beverage has generated a large amount of enthusiasm from retailers and distributors nationwide. The Extenze Beverage is the next mega drink brand; we expect the brand to continue to skyrocket."
"We plan on building and maintaining brand awareness through developing the 'livin' large' media campaign which combines television, radio, print, celebrity endorsements and sponsored events," Lark said. Extenze kicked off the campaign by successfully hosting the first annual Playboy Mansion Super Bowl extravaganza on Super Bowl Sunday.
"Extenze may not make a monster out of you and it won't make you a rockstar, but it is no bull, it can make you larger," said Robert Winter, CEO of Extenze. "I am certain that STG will develop a distribution and media strategy that will breed success."
STG Media Corp., STG Retail Direct, and STG Interactive, LLC, work together to develop and execute strategic, national marketing campaigns. Based in Tempe, AZ, STG Media is a full-service advertising agency specializing in creative and media buying for print, television and radio. STG Retail Direct places products directly on the shelves of Wal-mart, Walgreens, CVS, Target, GNC, and thousands of grocery and convenience stores nationwide. STG Interactive develops cutting-edge E-commerce solutions in addition to search engine optimization and search engine marketing. As the line between brand marketing and direct response blurs, brand advertisers move to be more accountable, and direct response marketers evaluate themselves from a brand perspective. STG helps clients navigate through the complex landscape of opportunities that exist within the context of modern, cross-media campaigns.
For more information about the STG family of companies, call toll-free: 866-834-4370 or visit our website www.stgpress.com. How the World Responds to You.(TM)
All trademarks acknowledged.
For additional information, contact:
Jenelle Allen
STG Media Corp.
+1-480-699-6078
jenellea @stgmediacorp.com
[tags]STG Media Corp, STG Retail Direct, beverage market, launching the Extenze Beverage, CEO Thomas Lark[/tags]