SAN JOSE, Calif. — MyAdTV, Inc. (www.myadtv.com), a software service provider dedicated to bringing digital signage solutions to the masses, today re-announces the release of the MyAdTV digital signage platform free of charge to the public. MyAdTV provides a complete solution to in-store advertising and on-location ad sales and allows businesses to find and advertise on third party digital signage screens for the purpose of cross-promotion.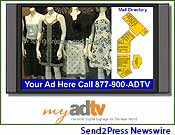 Dynamic digital signage is fast becoming the tool of choice for point-of-purchase advertising. It is a more effective way to convey information and to capture viewers' attention than traditional printed materials. Many national retail chains have already positioned themselves in using digital signage. Most independent store owners are left out due to lack of know-how and high implementation cost.
MyAdTV has engineered a solution that transforms digital signage to an easy-to-use web application. This digital signage platform is available to the public free of charge. Independent business owners can now take advantage of this new tool. No software installation is required; a regular PC connected to the Internet is used for content creation and playback; displaying content is controlled and updated remotely with no interruption to the display; users can self-start in less than 30 minutes. Store owners can easily put together a digital signage system themselves with the cost of a computer and a monitor.
MyAdTV also helps to increase foot traffic to retail stores. MyAdXchange is a first of its kind ad trading system designed for business owners to swap ad space with their neighbors. Cross promotion can capture more on-site shoppers to their stores. Placing digital signage by the shop windows or store entrances also helps to attract traffic off the street and is cost effective.
MyAdTV's expandable and reconfigurable account architecture allows store owners to increase the usage at their own pace. Store owners can display content to multiple locations and assign their staff to manage various accounts. The task of content creation can also be turned over to web designers by giving them access to the accounts. All accounts are linked together within a business organization. Ad campaigns can be managed remotely by internal staff while store owners retain the overall control and can override any actions taken within the accounts. This feature allows store owners to run their own advertising campaigns right at their finger tips.
Businesses that are new to digital signage should take advantage of the free service and use it as an educational tool to learn about the ins and outs of digital signage. With the step by step user guide provided, they can start using this application right from their own computers. The only thing they have to invest is a few hours of their time.
The MyAdTV platform also creates new opportunities for other independent businesses besides store owners. Service oriented companies can easily incorporate digital signage to their existing operation. Using MyAdTV, businesses such as content creation and management, system integration and on-location ad sales can enter this market without excessive starting capital.
Go to www.myadtv.com to sign up for a free account.
About MyAdTV, Inc.
Founded in 2004 and located in the heart of Silicon Valley, MyAdTV puts tremendous effort in developing applications to greatly expand the scope of digital signage. The two patent pending flagship technologies include hierarchical account architecture and a fully automated ad trading platform. MyAdTV is in its series A funding stage.
[tags]MyAdTV Inc, digital signage platform, retail foot traffic, Dynamic digital signage[/tags]