NEW YORK, NY – May 17 /Advertising Industry Newswire/ — Noted beauty expert, marketing guru, and author Rachel Weingarten's new book: "Hello Gorgeous! Beauty Products in America, '40s-'60s" (ISBN: 1933112182, Collectors Press, 5/06) is a chic social commentary on beauty advertising, and combines her marketing and beauty industry background. The book explores the beauty culture past and present, women's evolving spending power in America while highlighting the exhortations and beauty products geared to women in the mid last century and into our own times.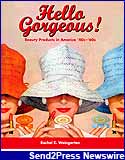 Weingarten and the National Women's Health Resource Center (NWHRC) will be partnering on a new initiative to encourage young women to take as much interest in their health and self esteem as they do in their appearance. A kick off cocktail party and book signing event scheduled for May 20, 2006, will be held at cult 14th & U Street corridor's fashion and lifestyle boutique Muleh. The event takes place during the annual Book Expo America (BEA) conference, which takes place in Washington, D.C.
Weingarten believes that NWHRC is a perfect fit as a charity partner for the book. "As modern women we're finally starting to realize that beauty is more than just about how we look, it's about how we feel and it starts from within. While Hollywood and the cult of celebrity would have us believe that it's all about the exteriors, NWHRC is committed to improving women's lives through health education- making their brains as sexy as their bodies. I can't think of a more gorgeous message."
Elizabeth Battaglino Cahill, Executive Director of NWHRC adds: "We're thrilled to partner with Rachel on this great book, message and launch. We've worked with Rachel for years, and we're collectively committed to trying to improve self image in young women, and educate them to the issues that concern them most."
While the partnership message is serious, the Muleh event is about fun. The fashionable evening at Muleh will include shopping (a percentage of all sales made will benefit NWHRC) cocktails, chocolates provided by Godiva, and a grand prize by Caron Paris. The burgeoning Washington scene is a perfect spot for the partnership cocktail party to take place. Muleh owner Christopher Reiter says: "We see women in the Washington area taking a greater interest in fashion today. The timing of Hello Gorgeous! is perfect – glamour is back."
About Hello Gorgeous!
Hello Gorgeous! contains over 300 original advertising images, 100 bits of trivia, and witty commentary throughout. The book also includes commentary by industry experts including Joy Behar co-host of "The View", cosmetic entrepreneurs Bobbi Brown, Jean and Jane Ford, and Dr. Nicholas Perricone, Musician Ben Lee, professional athlete Rebecca Lobo and numerous advertising, marketing and magazine insiders. Hello Gorgeous! has received enthusiastic advance praise including from Bust Magazine: " Take a look at this sweet mid-century beauty book…[which] reclaims the beauty boom as a girls' club, paying homage to beauty moguls Estee Lauder, Helena Rubinstein and Elizabeth Arden," as well as being one of Publishers Weekly's featured picks for Spring '06. The book is published in a softcover edition that retails for $14.95. It will be available in late May 2006 online or from major bookstores and retailers, or from the Hello Gorgeous! store at www.hellogorgeousguide.com.
About Rachel Weingarten
Weingarten began her career as a makeup artist and is the president of GTK Marketing Group, the Washington Post has called her a "Hotshot NYC beauty consultant". She is known for her commitment to charity, and has been called "one of the new faces of philanthropy" by Crain's New York Business Magazine, for her ability to combine business with giving back, and for raising awareness of social causes. She is frequently quoted in national publications including ABC News, The New York Times, The Washington Post, MSNBC, Marie Claire and Glamour magazine. In her work as a journalist she has written for Fortune, Fortune Small Business, Newsday, USA Weekend, The Scotsman, Men's Health, The New York Sun and many others.
About NWHRC
The not-for-profit National Women's Health Resource Center is the leading independent health information source for women. NWHRC develops and distributes up-to-date and objective women's health information based on the latest advances in medical research and practice.
About Muleh
Muleh boutique reflects the harmonious subtleties of Asian modern interiors and a selection of women's fashion designed in New York, Los Angeles, Paris and Milan.
For more information or to schedule and interview with Rachel Weingarten, Please contact Jill Evans at 646.318.1857 or by email at jille@gtkgroup.com
Online:
* Hello Gorgeous! website – www.hellogorgeousguide.com
* Rachel Weingarten – www.weincountry.com
* National Women's Health Resource Center – www.healthywomen.org
* Muleh – www.muleh.com
News Source: Rachel Weingarten and NWHRC
Send2Press® is the originating wire service for this story.
* * *