With the nation's collective craving for Apple's iPhone, the product seems poised for the most consumer-friendly product launch in marketing history. Scott G speculates about that little 'camera' button in the upper right-hand corner of the screen.
You've read about Apple's spectacular new gadget, the iPhone. Most people in the Western Hemisphere have seen at least one of the commercials. And we've all done that mental calculation about our budget ("okay, it's five or six hundred dollars, but it's a business expense. . . ")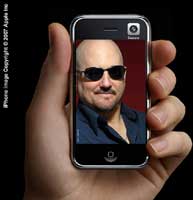 With people practically drooling over the iPhone, this high-tech tool is going to launch with the largest number of in-the-field product demos in the history of the world. Virtually every one of the first few hundred thousand iPhones sold will be used in personal presentations as proud owners happily run through the features and benefits at the office, at parties, in the elevator, at the mall, in bars and restaurants, at the gym, and wherever today's modern humankind gather for business or pleasure.
It's going to be a smashing success. My question is this: we know it can play videos but will it also be a video device? Is that a hidden benefit of the first models, or will it be an upgrade soon?
If not on the iPhone now, this feature is coming. Apple has been diligent about offering Webcam technology, and it seems only natural they would offer it in the iPhone.
And what changes it will bring:
* Working moms will want to check in with the nanny to see little Britney or Josh eating, napping, playing, etc.
* Employers will want the feature activated to make certain that "ill" employees aren't actually standing on the first tee
* Shoppers will ask store personnel to prove that a product is in stock in the right color
* And the opportunities for the creation of personal porn will expand exponentially
Suddenly, the price doesn't seem very high at all.
iPhone image copyright 2007 Apple, Inc.
[tags]Apple, iPhone, video phone, Gman, Scott G, advertising industry news, marketing, personal porn[/tags]