BRADENTON, Fla. — TenthGate International, Inc. (OTC Pink Sheets: TGTI), an innovative medical holding company uniquely positioned to acquire and for development of life changing technologies (www.TenthGate.biz), announced today the engagement of Sandler Communications, LLC ("SC"), a financial communications company, to assist TenthGate with its public and investor communications.
Per Tim Novak, CEO of TenthGate, said, "We selected Sandler Communications due to their ability to assist our company in meeting the highest standards of communications in the industry," continued Novak. "Their deep healthcare sector experience will keep our shareholders, financial community and strategic partners well-informed during this next critical phase of our development."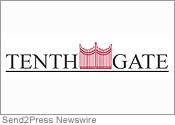 Sandler Communications offer customized investor relations and public relations strategies for its clients. They create custom strategies and support services needed by development stage companies specific to the Healthcare industry. This is accomplished through a high level of personalized service and counsel to their client companies.
Headquartered in Houston, Texas, Sandler Communications delivers comprehensive services that are essential elements for the growth and success of emerging companies. For additional information, visit the website at www.sandlercommunications.com.
TenthGate International, Inc., 8374 Market Street #439, Bradenton, FL 34202.
[tags]Sandler Communications LLC, TenthGate International, investor relations and public relations[/tags]