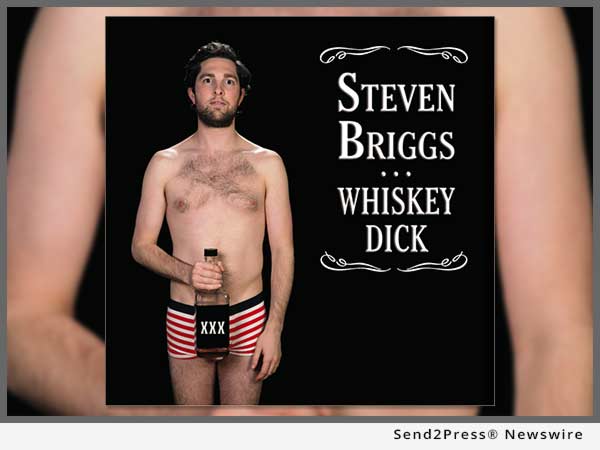 Uproar Entertainment is excited to announce the release of Steven Briggs' first comedy CD "Whiskey Dick." Recorded in front of a live audience at The Comedy Underground in Seattle, Washington, this CD "introduces a new kind of comedic voice, one which can't be placed into any particular box."

Steven Briggs is known for his unique, high-energy comedy stylings which are an entertaining combination of personal storytelling, song, and beatboxing. He began honing these skills early on in a family of storytellers in which his mom would dress him up in a tux and have him retell stories about her to her friends. These early performances prepared him well for a successful career in comedy.

He has appeared on the major television networks Fox, A&E, ABC and ESPN and has been seen in numerous TV commercials. He holds the singular distinction of being featured in President Bill Clinton's all-time favorite commercial, which aired on ESPN.

Upon arriving in Los Angeles, where he is now based, Briggs was promptly greeted by a Marilyn Monroe impersonator who robbed him. Not one to focus on the negative, Briggs quickly found his footing and moved on. He has delighted audiences at some of the best known comedy clubs across the U.S., including The Laugh Factory, Flappers Comedy Club, Planet Hollywood in Las Vegas, the legendary Ice House Comedy Club, and Gotham in New York.

In addition to touring throughout the U.S., Briggs has toured internationally in Addis Ababa, Djibouti, Kuwait, Bahrain and Colombia where he headlined Caza Teatro. He is also a USO tour vet, having performed for American troops in Greenland, Honduras, Curaçao, Bahamas and Guantanamo Bay.

According to The Stand Up Comedy Magazine, Briggs is "a true entertainer. He gets laughs from all angles, by any means necessary. Briggs' stories are the best kind of insane...." Without question, Steven Briggs is a young comedian on the brink of super stardom!
About Uproar Entertainment:
Uproar Entertainment is committed to recording and promoting today's most talented comedians. Under the helm of David Drozen, the man who discovered Richard Pryor in early 1970, signed him to his first recording contract, and produced 12 of his albums for the legendary comedy label Laff Records, Uproar nurtures, supports and develops the best comedic talents of our time.

With an unparalleled ear for comedic talent, Mr. Drozen is responsible for discovering many of today's comedy greats, producing their very first comedy albums and igniting their comedy careers. Under his leadership Uproar Entertainment is "makin' comedy happen!"

Uproar Website: http://www.uproarcomedycd.com
Uproar Facebook: https://www.facebook.com/UproarComedy/
Uproar Twitter: @UproarComedy
Uproar Instagram: https://www.instagram.com/uproarcomedy/

Steven Briggs Website: http://stevenbriggscomedy.com
Facebook: https://www.facebook.com/stevenbriggscomedy
Twitter: https://twitter.com/MrStevenBriggs
Instagram: https://www.instagram.com/stevenbriggscomedy/
YouTube: https://www.youtube.com/user/steven4811/

"Whiskey Dick" is available on iTunes at https://itunes.apple.com/us/album/whiskey-dick/id1096177077

For promotional copies, interviews, or for additional info, contact: Ashley Beck, Director; Social Media Marketing & PR at 818-723-2648 or UproarComedyPR@gmail.com.

*VIDEO (YouTube):
http://youtu.be/EQpefNO8owM
This news story was published by the Neotrope® News Network - all rights reserved.