RIVERSIDE, Calif. (Advertising Industry Newswire) — After successfully launching ThemBid.com in California earlier this year, Above The Limit Innovations, Inc. (ATLi) announces the expansion of ThemBid.com services to all consumers and businesses in the U.S. and 54 other nations. The Company also unveils classifieds section, user forums, RSS feeds, and an integrated search engine.
The newly added locations will empower consumers and businesses to find each other more efficiently at the local level anywhere internationally.
"A significant amount of our visitors come from outside of California, in addition, we have received numerous feedback requests asking us to bring ThemBid.com to various areas around the world. We decided it was finally time to add national and global locations," said ThemBid CEO Elmer Thomas.
All major U.S. metropolitan areas in all 50 states have been added at the national level. Global locations include major cities in North America, Central America, South America, Europe, Asia, Australia, Africa and the Middle East. ThemBid.com CEO Elmer Thomas states, "While people and cultures may vary around the globe, there is a consistent need for consumers to find local businesses. That is the reason why we have chosen to expand our services globally."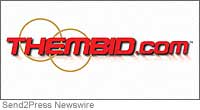 New features have also been added to ThemBid.com to make the site even more user-friendly. The site now boasts a fully functional classifieds section. Now consumers and businesses alike can post their advertisements for free. Forums have been implemented to allow users to voice their suggestions, opinions and commentary about ThemBid.com. RSS feeds will allow users to track requests from any RSS enabled reader. Using this technology makes it easier for users to track activity at ThemBid.com and better utilize the services. Starting in the user forums, ThemBid will enable sophisticated search ability to make it easy for users to find what they need instead of browsing manually.
About ThemBid
ThemBid is an online community where consumers can post their requests and let businesses bid for the work. Consumers save time and money by eliminating the need to call around for quotes with little guidance towards finding value, while businesses get targeted advertising and new customers to help grow their bottom line.
ATL Innovations, Inc. began development of ThemBid.com in November of 2006 and quickly generated industry-wide interest on blog web sites before ThemBid.com's official public release in April 2007. Since that time, ThemBid has had over 11,000 unique visitors from all over the globe. ThemBid has been featured in print publications such as The Press Enterprise, the Business Press and UC Riverside's Engineering Times magazine as well as websites such as LinuxToday.com, KillerStartUps.com and Mashable.com among many others.
About ATL Innovations, Inc.
ATL Innovations Inc. was founded in 2003 by Elmer Thomas and several Alumni of the University of California, Riverside, including Isaac Saldana, Chief Technical Officer and Jose Lopez, Chief Programmer.
ATL Innovations' clients have included The Magic Johnson Foundation, Subway Development, and University of California Riverside College of Electrical Engineering.
ATL Innovations has received numerous awards and honors of distinction, including most recently a letter of congratulations from Gov. Arnold Schwarzenegger, Technology Firm of the Year Award from the Inland Empire Minority Business Development Center, and was a finalist for the Spirit of the Entrepreneur Award for Technology by the Inland Empire Center for Entrepreneurship.
More Information: http://www.ATLInnovations.com
[tags]Above The Limit Innovations Inc, free business classifieds, request bids on projects, CEO Elmer Thomas, ThemBid online community, businesses bid for work[/tags]