SAN JOSE, Calif. — MyAdTV, Inc., a software service provider dedicated to bringing digital signage solutions to the masses, today announces the release of the "One Click Turnkey" digital advertising solution. MyAdTV provides a complete web based solution to in-store advertising and on-location ad sales.
MyAdTV delivers the world's first One Click Turnkey solution to in-store digital advertising. With just one click, any computer connected to the Internet is converted into a turnkey digital signage system. That is, when the computer is first powered on, the scheduled content will start to play automatically. The One Click Turnkey mode can be setup on any computer without having to install software, while content is downloaded from MyAdTV's central server into a web based application. Wireless desktop or laptop computers work well with this application and can be used at any number of locations. No trained personnel are required to maintain the system which is ideal for use in a retail environment.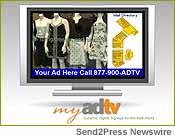 The One Click Turnkey solution reduces technical hurdles for store owners to implement digital signage. The entire platform supports the notion that anyone can start to compose and playback ad content without the need to purchase any hardware or software beyond an Internet enabled computer. Customers can validate the concept right from their own computer before investing in systems for their stores. Store owners and advertising content designers can sign up for a FREE 'Starter Package' to access the service right away. The software takes static images, movie formats, Macromedia Flash, and user type-in text as inputs and composes an ad sequence to be played as full screen dynamic advertising. You can control and update the content remotely through your account from any computer.
The update will take place automatically with no interruption to the display content. You can also subscribe to multiple accounts and establish tiered permissions for a staff to manage various ad campaigns, or for web designers to create ad content while you retain the right to override any activities within the linked accounts. The One Click Turnkey digital advertising solution is easily demonstrated by going to MyAdTV's demo site (http://myadtv.com/demo.html).
About MyAdTV, Inc.
Founded in 2004 and located in the heart of Silicon Valley, MyAdTV puts tremendous effort in developing applications that greatly expand the scope of digital signage. The patent pending flagship technologies include one-click turnkey (http://myadtv.com/demo.html), hierarchical account architecture (http://myadtv.com/accountstructure.html), and automated ad trading (http://myadtv.com/MyAdXchangeDoc.html).
[tags]One Click Turnkey digital advertising, MyAdTV digital signage[/tags]