New Partnership Will Bring ATM-Dispensed Gift Cards, Premiums, and Incentives Technology to Europe
MESA, Ariz. and LONDON, U.K. — Capital Market Technologies (CMT) (OTCBB:CMKT) has reached an agreement with Better ATM Services, Inc. to license the rights to distribute Better ATM Services' patented, groundbreaking technology throughout the European markets. Better ATM Services' breakthrough process enables existing automated teller machines to dispense gift cards and other pre-paid media, premiums, and incentives from ATM trays–just like cash.
Capital Market Technologies' CEO Jack Bouroudjian said, "The agreement with Better ATM Services' allows us to make another important step in providing unique solutions to the financial markets in the U.K. and Europe. The expected impact of Better ATM Services' technology on businesses ranging from banks to advertisers is quite exciting. This move brings a very useful and practical solution to the changing European payments environment."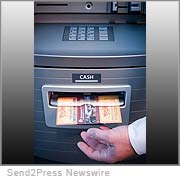 Better ATM Services' CEO Todd Nuttall said this is another important step. "We are looking forward to working with CMT to guide our expansion into international markets. From initial reports, European customers are expected to rapidly embrace Better ATM Services' innovative ATM-based payment card dispensing technology. We anticipate some very creative applications of our technology developing from this relationship."
Better ATM Services' efficient and cost effective distribution option means banks, shopping malls, grocery stores, restaurants, independent service operators, advertisers, and any business can now offer prepaid gift cards and other prepaid media, premiums, and incentives through technology enabled ATM machines increasing profitability while offering consumers a new level of value-added service.
About Capital Markets Technologies
Capital Markets Technologies (CMT) ( OTC: CMKT ) is a Chicago-based financial technology solutions company with operations in Chicago, Toronto, and London. The company provides innovative financial technology solutions to global financial institutions and major corporations.
About Better ATM Services
Better ATM Services (BATM) (www.betteratmservices.com), a Mesa, Arizona-based company, supplies patented technology that enables an ATM to dispense prepaid gift cards like currency. Enabled ATMs dispense the prepaid cards via the ATM's cash tray using the machine's existing dispensing mechanisms. BATM licenses its technology to both ATM and prepaid card industry participants to provide a more secure, convenient, and profitable distribution option with additional revenue opportunities. BATM's patented technology assures continued operation within existing industry infrastructures and pricing models.
For more information and to preview the latest video showcasing Better ATM Services at a recent industry conference, please visit http://www.betteratmservices.com.

[tags]Better ATM Services, Capital Markets Technologies, ATM to dispense prepaid gift card, CEO Todd Nuttall, CEO Jack Bouroudjian, OTC CMKT[/tags]