Nokia Celebrates Career and Corporate Cool(TM) – Global Leader in Mobile Technology Partners on Launch of New Book
NEW YORK, N.Y. — NOKIA the global leader in mobile technology is partnering with style and marketing maven Rachel C. Weingarten on the launch of her new book "CAREER AND CORPORATE COOL(TM): HOW TO LOOK, DRESS AND ACT THE PART – AT EVERY STAGE OF YOUR CAREER" (Wiley; ISBN 978-0-470-12034-7; $21.95; August 2007). To celebrate the launch, Nokia will sponsor a private book party at the Nokia Flagship Store in New York on Wednesday, August 8th.
Weingarten describes the relationship this way: "Nokia is known for 'Connecting People' and as the largest seller of cell phones in the world, they literally connect billions of people with myriad mobile devices that are technologically advanced, easy to use and even easier to integrate into the busy working woman's lifestyle."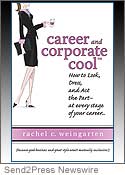 Weingarten is equally adept at connecting people, having launched business and social networking ventures nationally and overseas. "I love connecting people and helping them create enduring and mutually beneficial business partnerships," Weingarten says. "In a time when people rely on Facebook, LinkedIn or MySpace to create a faux network of friends or contacts, it's comforting to have a business partner like NOKIA to rely on. The partnership is a perfect fit between the global leader in stylish mobile connections and a well connected marketing and style guru."
In CAREER AND CORPORATE COOL(TM), Weingarten clarifies the new rules of business including everything from basic business etiquette and communication to networking, style and beauty advice and everything needed to help women (and men) in business to create and define their personal professional brand.
Keith Nowak, Media Relations Manager, for Nokia, has said about the book: "Reading Career and Corporate Cool is like getting sage advice from a wise and witty best friend. While it is a must-read for anyone just starting their career path, it is equally relevant for grizzled corporate veterans as well."
Weingarten sums up the relationship best this way: "Both Nokia and I are all about making the right connections- and great business accessories. I can't think of a better launch partner for my book."
Elaine Pofeldt of Fortune Small Business sums the book up best: "Rachel Weingarten has a keen eye for the unwritten rules of today's workplace – and a wicked sense of humor."
Rachel Weingarten is President of GTK Marketing Group, LLC (http://www.gtkgroup.com). She's transitioned with great style through careers as a cosmetics industry executive, weekly beauty columnist, and entrepreneur. She is a noted expert on style, marketing and trends, regularly quoted in The New York Times, CNN.com, The Washington Post and many others. Weingarten is also the author of "Hello Gorgeous! Beauty Products in America '40s-'60s," a NYC Public Library pick for 2007
Visit http://www.CareerandCorporateCool.com for more information.
[tags]Rachel C Weingarten, Career and Corporate Cool, Wiley books, Nokia book party, GTK Marketing Group[/tags]